Movies - Other
Band Of Borther dvd1 ep 1et2 DVD r ntsc (qc) MONKY
Torrent info
Name:Band Of Borther dvd1 ep 1et2 DVD r ntsc (qc) MONKY
Torrent added: 2009-08-28 16:26:46
Torrent Files List
BAND_BROTHERS_D1.iso (Size: 4.33 GB) (Files: 2)
BAND_BROTHERS_D1.iso
4.33 GB
bandovcd.nfo
1.56 KB
Announce URL: http://www.torrent411.com:56969/announce
Torrent description
***ATTENTION*** pour que ce torrent fonctionne vous devez posséder un compte sur www.torrent411.com et ensuite entrez votre passkey manuellement (torrent411.com:56969/passkeyici/announce) ou re-télécharger le torrent du site. Merci! ***ATTENTION***

[color=red][size=6].: Band Of Brothers :.[/size][/color]
[color=BLeue][size=6].: Bande de frères (qc) :.[/size][/color]
[color=black][size=6].: Frères d'arme (fr) :.[/size][/color]
[size=4].: DVD 1 :.[/size]





Information sur le film

Origine du film:
Réalisateur: Joseph Ruben
Acteurs:
Genre:
Durée: Inconnue
Date de sortie:

Résumé du film:

Band of Brothers ou Frères d'Armes (titre Français) est une mini-série américaine de 10 épisodes d'une heure. Ces épisodes ont été produits par Steven Spielberg et Tom Hanks et l'histoire tirés du livre Band of Brothers du fameux historien américain Stephen E. Ambrose, décédé le 14 octobre 2002 à l'âge de 66 ans.

Passée sur les écrans français au cours de l'été 2002 et l'été 2004 (dans le cadre du 60ème anniversaire du débarquement allié en Normandie), la série a rencontrée un vif succès, non seulement en France, mais également aux Etats-Unis, en Angleterre, en Italie et en Allemagne.
Des Vétérans américain explique leur avantures durant la guerre contre les almands et vous le font vivre.
Informations sur la release

Qualité: DVD-R
Format: MPEG-2
Langue: Français
Sous-titre:

Informations sur l'upload

Requête: Pas de requête
Découper avec: Aucun
Nombre de CD/DVD: 1 CD
Nombre de fichiers: 1 Fichiers
Taille des fichiers: 4.55 Mo
Fichier SFV: Non
Fichier NFO: Oui
Taille totale: 4.55 Mo

Infos supplémentaires
créé part nay clone dvd

Épisode 1
[size=4].: Currahee (Currahee) :.[/size]
les hommes de la Easy Company du 506 PIR de la 101st Airborne Division s'entraînent aux terrains de Toccoa en Géorgie sous les ordres du First Lieutenant Herbert Sobel. L'entraînement fut pour certains soldats plus dur que le combat.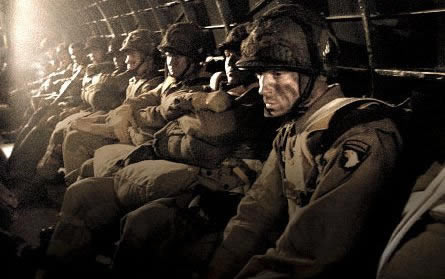 Épisode 2
[size=4].: Jour J (Day of Days) :.[/size]

L'épisode numéro deux débute avec un plan sur les C-47 de la Easy company en route vers la zone de parachutage.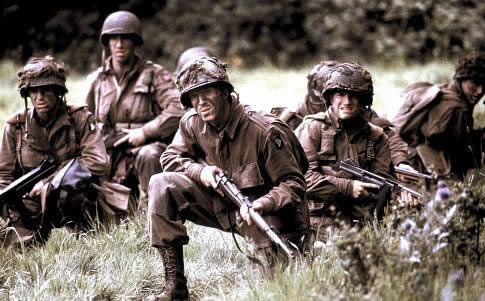 [color=red]Total du post:[/color] 4.55 Mo


[youtube]http://www.youtube.com/watch?v=GFGOSsNV47s&feature=related[/youtube]
related torrents
Torrent name
health
leech
seeds
Size
BAND Of BROTHERS French EP 1 2 FRERES D ARMES avi
4
0
1.37 GB
0
Dumb and Dumber UNCUT! NTSC! QC! Monky
0
0
4.36 GB
0
comments (0)