Windows - Other
KatMouse 1 4 [H33t] [pmsyb]
Torrent info
Name:KatMouse 1 4 [H33t] [pmsyb]
Torrent added: 2009-08-28 10:31:27
Torrent Files List
Desrciption.txt (Size: 339.91 KB) (Files: 3)
Desrciption.txt
5.31 KB
KatMouseInst.exe
334.58 KB
tracked_by_h33t_com.txt
0.02 KB
Torrent description
KatMouse 1.4

KatMouse is free software

Purpose
The prime purpose of the KatMouse utility is to enhance the functionality of mice with a scroll wheel, offering 'universal' scrolling: moving the mouse wheel will scroll the window directly beneath the mouse cursor (not the one with the keyboard focus, which is default on Windows OSes). This is a major increase in the usefullness of the mouse wheel.
Another feature involves the wheel button. Since the wheel button is not consistently used in Windows, KatMouse can use it for a kind of task switching: with a click of the wheel button you can push a window to the buttom of the stack of windows that is your desktop, making a recovered window the active window.

System Requirements
Since KatMouse uses functionality only available on the NT line of Microsoft operating systems, KatMouse will run on NT(SP3+), Windows 2000, XP and Vista, but not 9x and ME.

Installation
Run KatMouseInst.exe and choose the destination directory which is C:\Program Files\KatMouse.

Usage
For one thing, you can scroll with the wheel button :-).
If your using KatMouse wheel button functionality, you can scroll most windows page wise by holding the wheel button over the window and clicking the left (up) or right (down) mouse button. If you hold the left or right mouse button, you'll get continuous, accelerating pagewise scrolling.

To push a window to the stack bottom, just click with the wheel button on the window (double click on 'always on top' windows). This works even while dragging something with the mouse (i.e. copying files from one explorer to another). You can change the push button to be one the extended buttons of newer 5-button mice.
To raise that window again, click and hold the wheel button on it for some time. This will raise the window to the top, but will not trigger any other action (i.e. clicking with the left mouse button on a window just to raise it again could click a button/link or move the cursor or other unintended things).
See this screen shot for available options.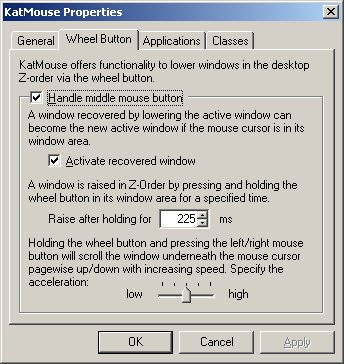 In the KatMouse properties dialog (available by right clicking on the KatMouse tray icon and clicking Settings ) you can choose individual wheel scroll settings for applications and windows.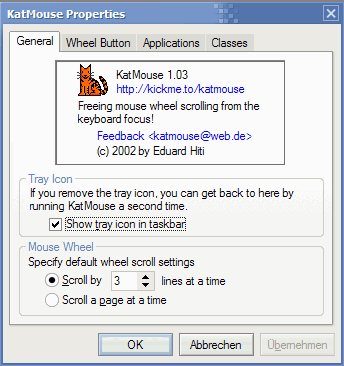 In the Applications tab,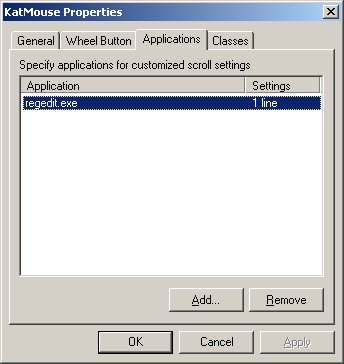 ,
choose the applications executable file in the file dialog and set the desired scroll width by double clicking on the new entry in the list (screen shot )
" border="0" alt="KatMouse 1 4 [H33t] [pmsyb] preview 2"/>

After that all windows of this application will not scroll with the default scroll width, but with the individualized settings you made.

The same applies to the Classes tab: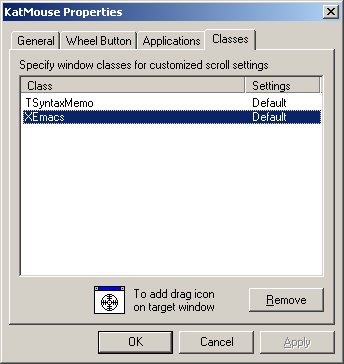 Here you can select the kind of window (its class) to customize (drag the crosshair to the window). If the chosen window does not behave correctly you can disable the 'Window has wheel scrolling support' checkbox in its settings dialog.
" border="0" alt="KatMouse 1 4 [H33t] [pmsyb] preview 2"/>. This will force KatMouse to use a different, possibly less efficient approach to scrolling the window.
Try this if KatMouse does not properly scroll a window. On the other hand, enable the checkbox if scrolling is slow.

FAQ
Q: Some windows do not scroll at all!?
A: Try the following: Go to the KatMouse 'Settings' window by right-clicking on the tray icon, select the 'Classes' tab and drag the crosshair to the problematic window. A new entry appears in the list box. Press the 'Apply' button. Now try to scroll the window. If it works now, you're done. If not, double-click the listbox entry and unselect the 'Has scroll wheel support' checkbox. Press 'Ok' and scroll the window now. If it does not work now, I fear you're out of luck.

Q: How can I export my settings?
A: Open regedit.exe and navigate to the following key:

HKEY_CURRENT_USER\Software\KitKatSoft\KatMouse

Export the whole node to a file. You've just exported all your settings! To import them just double-click the created .reg file.

Q: I would like to have my wheel button back!
A: Open the 'Settings' dialog, go to the 'Wheel Button' tab and select 'None of the buttons' from the combo box.

Q: I want KatMouse to be disabled for a specific application!
A: Open the 'Settings' dialog, go to the 'Applications' tab and browse to the applications executable. Select this executable, double-click on the new entry in the listbox and select the 'Don't handle at all' checkbox.

Q: Can KatMouse bring the scrolled window to the foreground automatically?
A: Yes, it can. You have to activate this feature however. You can do that by setting the registry entry

HKEY_CURRENT_USER\Software\KitKatSoft\KatMouse\RaiseOnScroll

to a non-zero value, or you can double-click the 'RaiseOnScrollOn.reg' file in the KatMouse directory. To deactivate double-click the 'RaiseOnScrollOff.reg' file (you can tell that I was too lazy to make a GUI for that option ;-). You have to restart KatMouse either way.

Problems
There are some applications which will not fully cooperate with KatMouse (Office 2000 comes to mind). This usually results in the old scrolling behavior (scrolling window with keyboard focus) for this application.
If you experience other problems, please report them to

reverse:[email protected] <reverse:[email protected]>




related torrents
Torrent name
health
leech
seeds
Size
AdminToys Suite 2009 1 4 1408 [h33t] [pmsyb]
2
5
11.73 MB
0
SiSoft Sandra Pro 2009 SP3c [h33t] [pmsyb]
0
0
21.32 MB
0
ControlPad 0 64 [h33t] [pmsyb]
4
7
1.18 MB
0
Stardock IconPackager 4 2 [h33t] [pmsyb]
0
0
1.10 GB
0
Katmouse 1 4 [h33t] [pmsyb]
0
0
3.00 MB
0
comments (0)