Horror
The Hitcher
Torrent info
Torrent added: 2009-08-28 04:04:52
Torrent Files List
The Hitcher _2007.avi (Size: 699.20 MB) (Files: 2)
The Hitcher _2007.avi
699.20 MB
tracked_by_h33t_com.txt
0.02 KB
Announce URL: http://www.h33t.com:3310/announce
Torrent description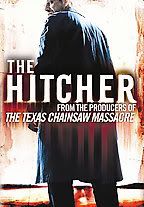 http://www.imdb.com/title/tt0455960/


The Hitcher (2007)

Rated R

84 mins

Horror/Susp

On DVD 05-01-2007




Review:

Reeking with intensity, The Hitcher delivers suspense, thrills and an important message: don't pick up strangers. Although Sean Bean's portrayal of a ruthless hitchiking villain failed to frighten me as much as Rutger Hauer's turn in the original 1986 film, this 2007 remake holds its own as a riveting psychological horror movie.

Contributing to the film's success are two fine young actors, Zachary Knighton (The Prince & Me) and Sophia Bush (John Tucker Must Die), as a couple of carefree college students who set out on a road trip during spring break, only to find themselves the victims of John Ryder's (Sean Bean) unhinged behavior. When Jim (Knighton) and Grace (Bush) first meet Ryder it's during a torrential rainstorm on a dark New Mexico highway. They swerve to avoid hitting the man while he's standing in the middle of the road. Leaving him on the highway alone, they intend to send help when they reach the nearest gas station.

As luck would have it, Ryder finds another lift to that very same place at the same time and manages to persuade a reluctant -- plus somewhat guilt-ridden -- Jim to give him a ride from there. Unfortunately, it's not long before Ryder reveals his true violent tendencies, and a cat and mouse game begins -- one that results in the young couple being blamed for Ryder's bloody crimes.

Watching the horrifying situations faced by Jim and Grace caused my heart to pound and my blood pressure to soar, mostly because of how real Knighton and Bush made their characters seem to me. Knighton displays a screen presence that's a bit reminiscent of Harrison Ford when he first started out. And Bush projects both vulnerability and strength. She's absolutely terrific in the final showdown with Ryder!

As John Ryder, Bean certainly looks the part. In contrast to the spiffy captain in Flightplan, he's unshaven, disheveled and evil-eyed. If I hadn't seen the 1986 version, I probably would have no complaint at all about his portrayal. And I'm not sure why Rutger Hauer scared me more, but I think it's because his voice sounded so menacing.

Like Red Eye, another highly intense film, The Hitcher moves along rapidly without any extraneous scenes to interfere with its vigorous pace. I, for one, appreciate that. And, while the gore factor here is a little over the top, especially in one extremely disturbing scene involving an excruciatingly painful death sequence, it's probably tame compared to such recent horror films as Hostel and the SAW series.

Seldom do we see remakes done as well as this one. Bravo!



Codec: Xvid
Size: 699MB
Runtime: 01:23:51
Resolution: 592x432 (1.37:1)
Bitrate: 1048 kb/
FPS: 23.976
Audio: English. No subs.
112 kb/s (56/ch, stereo) CBR


Show your appreciation and seed.




related torrents
Torrent name
health
leech
seeds
Size
The Hitcher 2007 iTALiAN DVDRip XviD Republicvolpebianca
14
19
701.70 MB
0
The hitcher 2007 french dvdrip
9
29
700.84 MB
0
The Hitcher[xvid Ita Mp3][tntvillage Scambioetico Org]
0
13
701.00 MB
0
[dvdrip Xvid Ita Md Mp3]the Hitcher[www master italia net]
0
18
666.00 MB
0
The Hitcher (2007) Dvdrip xvid (stoned) (HHM09)[
0
0
713.14 MB
0
comments (0)