Windows - CD/DVD Tools
Ulead DVD Workshop 2[b33z][h33t]
Torrent info
Name:Ulead DVD Workshop 2[b33z][h33t]
Torrent added: 2009-08-27 19:15:13
Torrent Files List
Install.txt (Size: 167.07 MB) (Files: 10)
Install.txt
0.23 KB
Ulead DVD WorkShop2_Updates
dws2_dlt_patch_e.exe
2.44 MB
dws2_trial_e.exe
67.76 MB
dws2patch4_e.exe
12.24 MB
dws2patch5_e.exe
16.73 MB
Ulead DVD Workshop 2_PATCH.exe
140.61 KB
Ulead DVD Workshop 2_SETUP.exe
67.76 MB
[b33z] on [h33t].URL
0.07 KB
[b33z][h33t].txt
0.09 KB
tracked_by_h33t_com.txt
0.02 KB
Announce URL: http://www.h33t.com:3310/announce
Torrent description
" border="0" alt="Ulead DVD Workshop 2[b33z][h33t] preview 4"/>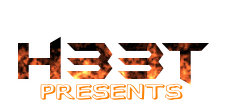 From Capture to DVD
Intuitive interface provides clear steps to complete capturing, editing, authoring, and output of dynamic DVDs.

Innovative Storyboard Layout
Clearly visualize, arrange and assign links between assets in your production.

Trim and Edit
Quickly trim video and insert chapter points manually.

Advanced Slideshows
Import images and photos to create dynamic slideshows with transitions, subtitles and background music.

Playlists
Assign multiple sequences of movies, menus, chapter points, audio and subtitle tracks to buttons without duplicating assets.

Real-time Preview
Preview disc behavior in real-time, including composited motion menus, using the DVD player simulator.

Archive folder
Maximize your final DVD project by adding additional folders or documents to the disc.

Video Tutorial
Get productive right away by following the included interactive tutorial.

Automatic Scene Detection
Choose from a variety of options for setting scenes or chapters.

Integrated Set of Creative Tools
Design compelling composited menus with text, borders and buttons. Add motion menus and buttons with image masks and objects with gradient transparency - all without leaving the application.

Extensive Import Options
Import single or multi-layered images such as PSD and UFO files, as well as GIF animations and video clips.

PowerMenus™
Choose from three levels of menu design. Select 'Wizard' for automated design, 'Template' for selecting theme-based menus, and 'Blank' for creating menus from scratch.

Layout Guides
Position elements accurately, using layout guides and grids as well as alignment commands.

Text Effects
Make titles and captions stand out with dynamic effects such as bevel, 3D, and warp by simply dragging and dropping the effects to the text.

Creative Button Options
Create unique buttons with a variety of irregular shaped masks. Rotate buttons with images or video content. Assign a default button to be highlighted when a menu opens.

Button Highlight
Assign buttons to change when activated, by applying either a color highlight or a different image shape to highlight.

Invisible Buttons
Make buttons invisible or program a highlight image to appear when navigated over.

Set Loop Cues
Set a motion menu to loop at a specific point, allowing the ability to have an intro section that does not repeat when looped.

Multiple Subtitles
Create up to DVD's maximum of 32 subtitle tracks for alternate languages, instructions, and creative messaging.

Subtitle Editor
Type subtitles into a preview window or directly onto the subtitle track. Edit text and apply custom attributes, borders, backgrounds and screen positions.

Subtitle Import & Export
Save time creating subtitle tracks by importing or exporting text files with timecode and attribute information.

Multiple Audio tracks
Add up to DVD's maximum of eight audio tracks for alternate languages, commentaries, and customized audio tracks. Adjust audio track levels with fade-in and -out control.

Audio Volume Control
Ensure consistent audio levels throughout your DVD title. Avoid audio level fluctuations between menus, movies, slideshows and audio tracks.

Language Coding
Assign a language code to different subtitle or audio tracks. Selected tracks will become the default setting according to a DVD player's language setup.

DLT Support
Record projects to Digital Linear Tape (DLT) which are preferred by replication facilities for mass distribution. DLT is also ideal for backing up projects.

DVD-9 Support
Double your project size with dual-layer (DVD9) support. This also adds additional copy protection.

Copy Protection
Add copyright protection to your DVD titles with Macrovision and CSS options when outputting to DLT tape for mass production.

Region Coding
Protect your rights by controlling the geographical regions in which your DVD title can be viewed.

Dolby® Digital audio Support
Import 5.1 channel Dolby Digital audio files and encode to 2-channel Dolby Digital stereo.

Surround Sound Emulation
Will simulate surround sound when played on a set-top DVD player.

Widescreen Support
Import, preview and output 16:9 widescreen format files.

Full Video Format Support
Capture and encode the popular DV/AVI, MPEG or analog formats, as well as WMV and MICROMV.

Import Video from Disc
Capture from analog, DV or MicroMV sources and transcode to MPEG on-the-fly or before burning. Import from sources including DVDs, WMV and Quicktime.

MPEG-Direct™
Save time and disk space by capturing directly from any source, including DV, to MPEG 2 or MPEG 1.

MPEG.Now™
Transcode video formats to Ulead's MPEG codec, delivering superb-quality video, audio and images.

SmartRender™
Multiple formats can be mixed in the same project, and some elements can be selected to be burned on the disc without conversion, to avoid quality loss.

Scaleable Architecture
Deliver fast encoding to high-quality MPEG format. The MPEG encoding engine is multi-threaded to take full advantage of Intel Hyper-Threading as well as dual processor systems.

Instant Burning
Save hard drive space by burning directly to DVD, or create an ISO disc image to use later.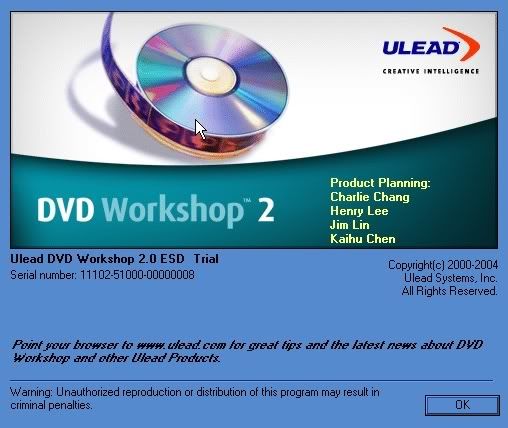 [code]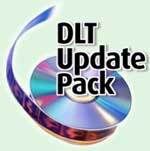 DVD Workshop DLT Update Pack

Keep DVD Workshop up-to-speed with all the latest updates, patches and fixes available. Install the DLT Update Pack today for improved performance with the Digital Linear Tape (DLT) format and DLT writer support. This update pack is only applicable to the full version of DVD Workshop and not the DVD Workshop Express version.
Updates included![/code]


" border="0" alt="Ulead DVD Workshop 2[b33z][h33t] preview 4"/>
related torrents
Torrent name
health
leech
seeds
Size
Ulead DVD Workshop 2 rar
0
0
628.96 MB
0
Ulead DVD Workshop V2 011
0
0
893.56 MB
0
Ulead DVD Workshop v2 2 231 Crack
0
0
81.01 KB
0
ulead dvd workshop v2 2 231 loader
0
0
126.01 KB
0
Ulead Dvd Workshop 2 Full English
0
0
68.00 MB
0
comments (0)