Anime - Other
[DVD RIP ITA JAP] Mao Dante Ep 1 4[Colombo bt org]
Torrent info
Torrent Files List
Torrent description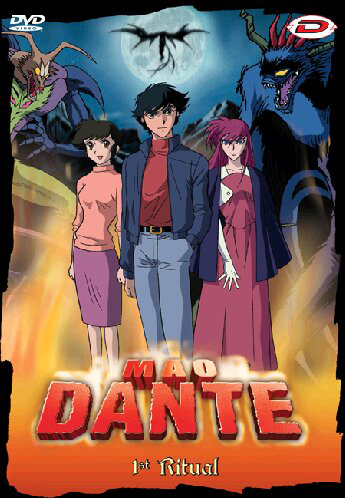 Mao Dante episodes 1-2-3-4

Dettagli Tecnici

Codec DivX 5
Dual Audio
Italian AC3
Japanese MP3

http://colombo-bt.org/index.php?topic=58932.0

Visit us at http://colombo-bt.org

Ryo è un ragazzo delle superiori che conduce una vita normale, da qualche tempo però, soffre d'incubi: sogna di vedere demoni che uccidono esseri umani ed uno di questi ha il suo volto. Un giorno il ragazzo riceve in regalo una moto, con la quale subisce un terribile incidente, dal quale però esce senza un graffio. Da lì incomincia la sua avventura contro il mondo dei demoni...


Dante has had his freedom and peace snatched away by those who'll become Gods. So that he can get everything back, Dante is incarnated. To fight with those who'll become Gods.
This story tells of Dante who have broken a 2000 year seal, And starts from the time when he is attacked by Ryo Utsugi. The human that the demon king has chosen for his body. As he becomes the eldest son of the Utsugi family, Utsugi's secret is eventually revealed...
While sleeping one night, Ryo Utsugi had a nightmare of monsters attacking him. One day he learns a mysterious power to let him hear voices and have visions of girls getting killed, but one night he hears the same voice.
related torrents
comments (0)