Electronic
Tribal Dreaming [ambient New Age] [2006 MP3 VBR 320Kbps]
Torrent info
Name:Tribal Dreaming [ambient New Age] [2006 MP3 VBR 320Kbps]
Torrent added: 2009-08-23 15:08:45
Torrent Files List
Tribal Dreaming - 11 - India D - Tribe.mp3 (Size: 104.62 MB) (Files: 11)
Tribal Dreaming - 11 - India D - Tribe.mp3
9.01 MB
Tribal Dreaming - 09 - Forgotten Temple - Midori.mp3
8.19 MB
Tribal Dreaming - 10 - A New Life - Nathalie Manser.mp3
13.37 MB
Tribal Dreaming - 08 - Anu - Kailash.mp3
9.74 MB
Tribal Dreaming - 07 - Forefathers - Leaving Footprints.mp3
7.88 MB
Tribal Dreaming - 06 - Pachakuteq - Daion.mp3
8.59 MB
Tribal Dreaming - 05 - Dame Des Sables (Didier Malherbe Loy Ehrlich) - Hadouk.mp3
10.08 MB
Tribal Dreaming - 04 - Yamaanii Boodog - Egschliglen.mp3
8.73 MB
Tribal Dreaming - 03 - Ecstasy In Avilla - Quinn.mp3
8.97 MB
Tribal Dreaming - 02 - Black Rose Of Fij i- Pacific Islands P Gaillard.mp3
8.93 MB
Tribal Dreaming - 01 - Dakini (Prem Joshua) (Monsoon Remix) - Aram Ram.mp3
11.13 MB
Torrent description
Tribal Dreaming [ambient New Age] [2006-MP3-VBR-320Kbps]

Multicultural New Age CDs : Easy listening, relaxation, ambient, meditation, healing, stress relief

Tribally inspired musical journeys echoing an ancient future of timeless rhythm. Contemporary arrangements include lyrical chanting and traditional sounds. Vibrant instruments and modern remixes combine to create a fresh, uplifting, cross-cultural effect.




Ambient music - Tribal Dreaming. Tribally inspired musical journeys echoing an ancient future of timeless rhythm. ...

Black Rose of Fiji by Pascal Gaillard, Oceania Records, 5:48 Dreaming melodies and rhythms from the island tribe where men's voices are soft and strong. Pascal Gaillard: all instruments Samples from the album 'Voices of Nature'.

Dakini (Prem Joshua) - Monsoon Remix by Aram Ram, White Swan, 5:54 Earthy modern Indian tribal dance on raga Bhairavi mood - groovy patterns of bass and drum move along the village's ambient noise. A remix of Prem Joshua's original track. Prem Joshua: Bansuri (bamboo flute), sitar, santoor Manish Vyas: tabla Aram Ram: remix programming

Ecstasy In Avilla by Quinn, 4:25 Danceable rhythmic groove, Asian instruments, tribal calls and a Gregorian choir wind a multicultural path to wistful world vocals. Quinn: keyboards, drums, percussion and programming

Yamaanii Boodog by Egschiglen, Heaven and Earth, 4:37 Mongolian throat singing along horse hair violin and percussion - inspired by a popular goat dish cooked before a celebration or a long trip through nature. T. Migdorj / T. Janlav: morin khur Berthold Wandansenge: percussion A. Baasandorj: khomi, vocals

Dame des Sables by Didier Malherbe / Loy Ehrlich, Tangram, 4:18 Mysterious composition with an African bass, the soft sounding duduk (double reed flute), bells and tablas - inspiring dreams. Didier Malherbe: duduk Loy Ehrlich: hajouj, percussion, keyboards

Pachakuteq by Daion, 4:47 Contemporary invocation to Pachakuteq, an important Inca figure, to take care of its people Daniel Peiro: vocals, all instruments, programming

Forefathers by Leaving Footprints, 4:51 An ambient piece featuring acoustic guitars, pulsing rhythm and Native American voices and instruments. Jim Savitt: guitar, programming, keyboards Rob Rolling: guitar

Anu by Kailash, 5:33 Dedicated to the Great Mother and Celtic Goddess Anu, encompassing both light and dark energies. Kailash: Celtic chord flute, percussion, didgeridoo

Forgotten Temple by Midori, New World Music, 5:18 Music from a tranquil paradise where Chinese flutes mingle with nature, a soft dragon drum rhythm, and quiet melodies. Midori: all instruments, programming

A New Life by Nathalie Manser, 7:15 Invigorating cello mixed with modern grooves accompanies the rhythms and voices of an American Indian tribe. Nathalie Manser: cello, vocals David Richards: programming Dr. Vulzor: bass guitar

104.62 MB in 11 files.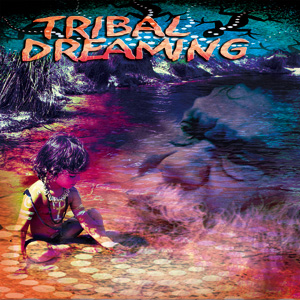 Other Albusm in the series.....

Tribal Groove: The Tribal Spirit awakens and explodes in vibrant celebration with instruments & vocals from Africa, Native America, the Middle East, Australia, Mongolia, Tibet. Enter these magical lands where ancient rhythms and cool grooves entwine into a moving, fresh and fascinating sound-journey.

Call of the Tribes (remix) by Karunesh
Arunda by Keiya
Witches Dance by Hamsafar
Mongolia by Limborg / Barki
Spice Souk by James Asher
Didji Dance by Ganga Giri
Khatar by Solace
Truth's Vibration by Professor Trance
Jibal Al Nuba by Mahmood Fadl
En Afrique by the capitali$ts
Inner Man by Michael Reimann
Crazy Horse Remembers by Ariel Kalma
Sunbear/Ohm Mani by Tribe



Tribal Trance Dance : Great Trance out to tribal rhythms merged with Turkish Drum&Bass, Moroccan ethno-pop, Dj mix from Ghana and Brazilian electro-rap. Journey with American Indian medicine men and Australian hill-people from the rainforests of Oceania to the brash Indo-pop clubs of Europe.

Xingu by Professor Trance
Hamu by Friedel Lelonek
Razali (Nabil Khalidi) by Zehava Ben
Calango by Kau
Tribal Trance Dance by Kamal Engels/A. Kalma
Taniye by Bekaye Kouyate & Sonkoma
Rhythm Culture by Didjworks
Akoma by Adesa
Fou la Tête by Ariel Kalma
Earthsoung by Karunesh
Gate Keeper by Atman


CD REVIEW: Tribal Dreaming
By Steve Allat - 10/31/04

Producer Ariel Kalma has done what few people in his position have managed to do - that is, to assemble songs from a variety of sources that really do blend together and also to produce them in such a way that the sonic tone of the CD is the same from beginning to end, which is really a treat.

Tribal Dreaming brings together sounds and stories from around the world, 'musical journeys echoing an ancient future of timeless rhythms'. There is much chanting and an interesting assortment of sounds and instruments on display.

The songs vary a little more on this collection, although each one does fit within the 'dream-state' of things. It's just a little less flowing than the other collections reviewed.

For such an eclectic mix it is very accessible, once again due to the great overall tone and lush production.


http://www.music-mosaic.com/music-review.htm#TG



Please seed after downloading......

http://thepiratebay.org/user/alientechy



related torrents
Torrent name
health
leech
seeds
Size
UDR Don The Chase Begins Again (2006 MP3 VBR 320Kbps)
0
0
98.95 MB
0
UDR Krrish (2006 MP3 VBR 320Kbps)
0
0
94.83 MB
0
VA Chup Chup Ke 2006 MP3 VBR 320Kbps UDR
0
0
92.22 MB
0
VA Kabhi Alvida Na Kehna 2006 MP3 VBR 320Kbps UDR
1
0
81.49 MB
0
bwtorrents com VA Fanaa 2006 MP3 VBR 320Kbps UDR
0
0
63.11 MB
0
comments (0)