Drum N Bass
RocksteadyUK Presents Sounds Of The Future (Mix and Video)
Torrent info
Name:RocksteadyUK Presents Sounds Of The Future (Mix and Video)
Torrent added: 2009-08-23 12:16:26
Torrent Files List
RocksteadyUK_-_30min_DEMO!!!_CHECK_IT!!!.mp3 (Size: 134.96 MB) (Files: 2)
RocksteadyUK_-_30min_DEMO!!!_CHECK_IT!!!.mp3
35.16 MB
RocksteadyUK Presents... Sounds Of The Future.wmv
99.80 MB
Announce URL: http://dnb-sets.de/bittorrent/tracker.php
Torrent description
38min Demo from one of UK's top Up and Coming DJs.... RocksteadyUK

"RocksteadyUK hits with yet another superb mix: The names of the songs reflect the intense experience he has managed to create, with rollers such as 'chainsaw' and 'the fury' definitely providing some idea of whats in store. The mix is tight, seamless and fluid, with some real bangers included- Heavy hitters sit perfectly alongside a chilled (yet dark!) intro, illustrating how well this man can bounce out the tunes at different paces. All in all, RocksteadyUK is one to watch; his technique is impeccable, his selection is without fault- slap this mix in your car and scare the neighbours!"
By Barnzee - dnbforum.com


"Stepping up and into the hotseat is the RocksteadyUK, one third of The Mutant DJs, providing a set which takes you on a journey through the dark and moody depths of the future of drum & bass.

Sounds of the future starts with the atmospheric, disturbing intro of "Counting to Infinity" by Rusher, a tune with a deep and techy edge to its beats. This is followed by more perfectly mixed bangers from the same dark and nasty stable, leading into a killer of a track "Chainsaw" by the one and only Fresh, a guaranteed dance floor smasher! RocksteadyUK eases the tunes from dark, tech style beats into some of the biggest, bashiest jump-up anthems of the moment, hitting all the right buttons with this heavy selection. With Soulpride's track Babylon making an appearance, its reggae inspired vocal samples and stomping, wobbling bassline makes it known that RocksteadyUK isn't messing about when it comes to making a dance floor go crazy! Followed on by more dance floor bombs from the likes of DJ Pleasure, Callide and DJ Panik this set is bound to get the Bassbins pumping! Finishing the Set with Optimist's "In the ghetto", you'll feel like you've seen into the future of the drum & bass scene courtesy of RocksteadyUK's seamless mixing and selection of some of the heaviest tunes of right now.

So put it on, turn it up, and hold tight…."
By DJ Octane - DesireFM

[SIZE="4"][COLOR="Red"]CLICK HERE TO DOWNLOAD[/COLOR][/SIZE]

Tracklisting....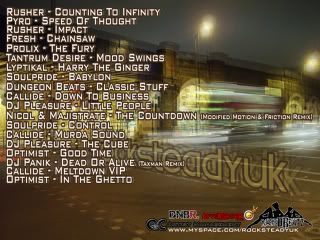 related torrents
Torrent name
health
leech
seeds
Size
Sounds Of The Seventies Punk And New Wave
0
0
65.04 MB
0
Depeche Mode sounds Of The Universe Cd+clip Video+couv
0
5
174.00 MB
0
Beneath The Waves: Sounds Of The Humpback Whales And Music
0
0
180.00 MB
0
Debichu Sounds Of The Future Vol 01 (on My Own)
0
0
109.00 MB
0
comments (0)