Ebooks
DC Comics Giantkiller (Issues 1 6) iLoveTorrents com
Torrent info
Name:DC Comics Giantkiller (Issues 1 6) iLoveTorrents com
Torrent added: 2009-08-20 22:29:16
Torrent Files List
Giantkiller.nfo (Size: 107.94 MB) (Files: 10)
Giantkiller.nfo
0.57 KB
DC Comics - Giantkiller (Issues 1-6).sfv
1.17 KB
DC Comics - Giantkiller (Issues 1-6).rar
14.31 MB
DC Comics - Giantkiller (Issues 1-6).r06
7.80 MB
DC Comics - Giantkiller (Issues 1-6).r05
14.31 MB
DC Comics - Giantkiller (Issues 1-6).r04
14.31 MB
DC Comics - Giantkiller (Issues 1-6).r03
14.31 MB
DC Comics - Giantkiller (Issues 1-6).r02
14.31 MB
DC Comics - Giantkiller (Issues 1-6).r01
14.31 MB
DC Comics - Giantkiller (Issues 1-6).r00
14.31 MB
Torrent description
Dan Brereton's GiantKiller



Publisher: DC Comics
File Type: .CBR
Format: 6 Issue Limited Series


Photo: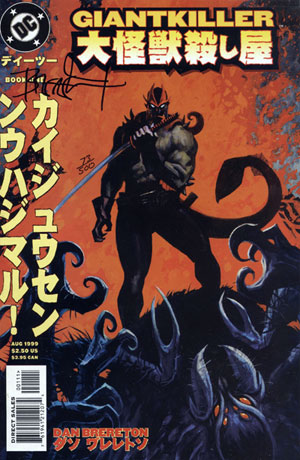 The story takes place in San Francisco, California in the wake of a mysterious
eruption in which giants of an unknown origin wreak havoc on the earth. The U.S.
military is powerless against the monsters whose physiology defies all conventional
weaponry. The military then responds with the aid of Dr. Azuma, a bio-engineer, to
create a genetic hybrid to combat the giant monsters.
related torrents
Torrent name
health
leech
seeds
Size
comments (0)