PSP
Dynasty Warriors Strikeforce(EUR)(ScriptKitty)
Torrent info
Name:Dynasty Warriors Strikeforce(EUR)(ScriptKitty)
Torrent added: 2009-08-19 22:53:22
Torrent Files List
Dynasty Warriors Strikeforce(EUR) (h33t)(ScriptKitty) (Size: 1.68 GB) (Files: 4)
Dynasty Warriors Strikeforce(EUR) (h33t)(ScriptKitty)
tracked_by_h33t_com.txt
0.02 KB
ScriptKitty.txt
0.14 KB
Dynasty Warriors Strikeforce EUR.iso
1.68 GB
Description.txt
1.37 KB
Torrent description

DYNASTY WARRIORS: Strikeforce is a game unlike any other in the series.
For the first time, up to four friends can join together to form a "Strikeforce."
As a team, players will travel to different towns, embark on quests, and use coordinated assaults to conquer heavily-armed fortresses and colossal beasts.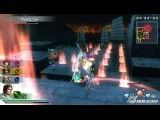 End of level bosses await intrepid heroes with a multitude of guises and deadly attacks while enemies, spread throughout each stage, possess much greater levels of intelligence and more powerful attacks.
So now more than ever it's imperative that players work together as a team and find ways to overcome the challenges and obstacles that stand between them and victory.

New "Fury" transformations give characters even greater supernatural abilities and attacks, including lightning fast speed and the ability to fly. Warriors can now take to the skies and face off against their foes in spectacular aerial combat.

DYNASTY WARRIORS: Strikeforce is developed by Omega Force and is for 1 to 4 players.
Multi-player play is via ad-hoc mode only.
For more information, visit www.koei.com/strikeforce.

===INSTALLATION===
Just drag&drop the ISO file to ur PSP's ISO folder.
If you dont have an ISO folder on your PSP, make sure your running custom firmware and create a follder and call it ISO. Thats it!
[color=turquoise]You must be running custom firmware to run this game! [/color]
Enjoy!



related torrents
Torrent name
health
leech
seeds
Size
Dynasty Warriors Strikeforce EUR PSP iCON(
0
0
943.97 MB
0
comments (0)