Heavy/Death Metal
Dir en Grey Uroboros 11/11/08 release
Torrent info
Torrent Files List
Torrent description
Dir En Grey - Uroboros
Release Date: 11/11/2008
Label: The End Records
Genre: Progressive Death / Heavy Metal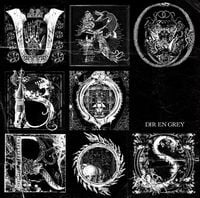 Track Listings


1. Sa Bir (2:01)
2. Vinushka (9:37)
3. Red Soil (3:24)
4. Doukoku To Sarinu (3:48)
5. Toguro (3:57)
6. Glass Skin (4:27)
7. Stuck Man (3:35)
8. Reiketsu Nariseba (3:32)
9. Ware, Yami Tote (7:00)
10. Bugaboo (4:43)
11. Gaika, Chinmoku Ga Nemuru Koro (4:22)
12. Dozing Green (4:06)
13. Inconvenient Ideal (4:19)
14. Dozing Green (JP) (4:08)
Line-up/Musicians


- Tooru Nishimura aka Kyô Vocals / guitars
- Hara Toshimasa aka Toshiya Bass / Back Vocals
- Kaoru Niikura Guitar / Back Vocals / Keyboard
- Daisuke Andou aka Die Guitar / Back Vocals / Mandoline
- Shinya Terashi Drums /Keyboard

Releases information

release date 11/11/08 choosing \'The End\' records as their label. It is the bands heaviest, darkest and most brutal album to date; although also features many trademarks of Post Withering To Death music styles. Kyo for the first time uses a perfected low growl, along with melodic vocals accompanied by oriental instrumentation and mandolin.

----------------------------------
Winds personal note:

Even heavier than their last album \"Marrow of a bone\" which in my opinion was one of the greatest displays of chaotic anger in heavy metal format. This album is \"slower\" and more atmospheric featuring mandolin and other oriental instrumentals and layers of vocal harmonies. With that said it is also the absolute heaviest and brutal album Diru has ever released, Kyo has perfected his Low Death Metal Growl which sounds perfect. This is a must for any fan of Death Metal with Melodic vocals, also who enjoy progressive elements (especially time changes in drumming while the guitar stays in 4/4, an example being the drums being 5/4 while guitar is 4/4 and then they switch to drums 4/4 guitar 5/4).

This album almost makes Diru the Japanese Opeth. No copycat meant as they are still doing their own thing and are incredibly unique, but the sense of atmopshere I Havent felt since Blackwater Park.

Prepare for the audio assault.

related torrents
comments (0)