Windows - Other
Password Pro Hash Reverser
Torrent info
Name:Password Pro Hash Reverser
Torrent added: 2008-10-27 12:41:11
Torrent Files List
passpro.rar (Size: 1.62 MB) (Files: 1)
passpro.rar
1.62 MB
Announce URL: http://pirates.sumotracker.com/announce
Torrent description
Product Name:
Password Pro

System Requirements:
Windows 95-98-NT-2000-ME-XP

Who uses this program:
Users who need to keep track of their program or web page passwords. Corporate users who need to keep track of their security access codes.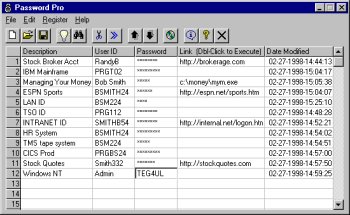 Unlimited users
Each user can configure up to 500 passwords
Password protected files
Random password generator
Launch your "links" from with Password Pro


Password Pro is a very powerful and simple to use tool that will keep track and manage all your passwords and links. You will never forget a password again. In today's corporate world, with all the different systems and passwords, Password Pro is a necessity. Password Pro also keeps track of your favorite Internet links. A simple click on the link and you are at your favorite web page.

related torrents
Torrent name
health
leech
seeds
Size
Sticky Password PRO 5 0 4 232
0
0
10.24 MB
0
Sticky Password PRO v5 0 6 247 Cracked-MESMERiZE
0
0
15.01 MB
0
Sticky Password PRO 6 0 6 429+ crack
1
0
17.07 MB
0
Sticky Password Pro 6 0 8 437
0
0
13.82 MB
0
Sticky Password PRO v6 0 (Activated) Full
0
0
10.55 MB
0
comments (0)