UK
Nina And The Neurons Go Eco S01E01 Mouldy Food (13 June 2008) [ TVRip (XviD) ]
Torrent info
Torrent Files List
Torrent description
This torrent was uploaded from www.TheBox.bz (signup is open and free) - the home of all British TV

Where: CBeebies

When: 05:30 pm - 05:45 pm BST, 13 June 2008

About the show:

From the BBC website (http://www.bbc.co.uk/cbeebies/grownups/about_cbeebies/shows/ninaandtheneurons.shtml):

"Nina and the Neurons is a series of 15 minute programmes made by BBC Children's Scotland for CBeebies, aimed at the 4-6 year old age group, focusing on the five senses.

Characters
Nina is a neuroscientist who works at the Glasgow Science Centre. She is fun, bubbly, but has the presence and authenticity of a real scientist who knows her stuff. The Neurons are characters who live in Nina's brain and, like real human neurons, send messages from her brain to the parts of her body which control her senses. Nina has some dialogue with the neurons, but most of their activity and chatter is amongst themselves, commenting on the action while 'looking out' from Nina's brain.

Each neuron is named to reflect the sense they control:

Luke is the sight neuron. He's the group leader, but in a very laid back and relaxed fashion. He is very cool!

Belle is the sound neuron. Her character is quite loud and slightly bossy, but still likeable.

Felix is the touch neuron. He is slightly sensitive, speaks in a deliberate, posh accent. Fussy about his appearance, he regularly fixes his hair.

Ollie is the smell neuron. She is very sweet, self assured and a bit of a goth. Though her little brother, Bud, can bug her at times, she loves him dearly.

Bud is the taste neuron. He is the baby of the bunch, and talks in a slightly childlike manner. Bud oozes enthusiasm and is easily excited by whatever is going on.

Programme
Each programme starts with Nina practising an experiment or demonstrating an activity for her Science Show later that day.

Nina is then interrupted by a video message (on a tv screen in her lab) arriving, from a child. The child is asking Nina a question (e.g. "Why can I only see stars at night, Nina?") She thanks the child for question and promises to come and help them find out the answer.

Nina then meets the child and family at either their home, or a suitable location to do a series of very simple experiments with them which will answer the child's question.

Once Nina receives the child's question, she states that she will need some help from the Neurons to help her with the answer. Nina selects one "neuron of the day" who will be most apt to operate the required sense relating to the question. (i.e. if question is "Why can I only see stars at night, Nina?", then the experiments will require much use of the sense of sight, and so LUKE will be the 'neuron of the day' for that programme). However, all neurons will be involved in each programme, as we do, of course, use all our senses for most daily activities."

Episode Description:

Mouldy Food
Alyx wants to stop her bread from going mouldy. Nina shows her how hairy mould can get, and with some help from Luke and the other Neurons, they experiment to discover a cool answer to her question.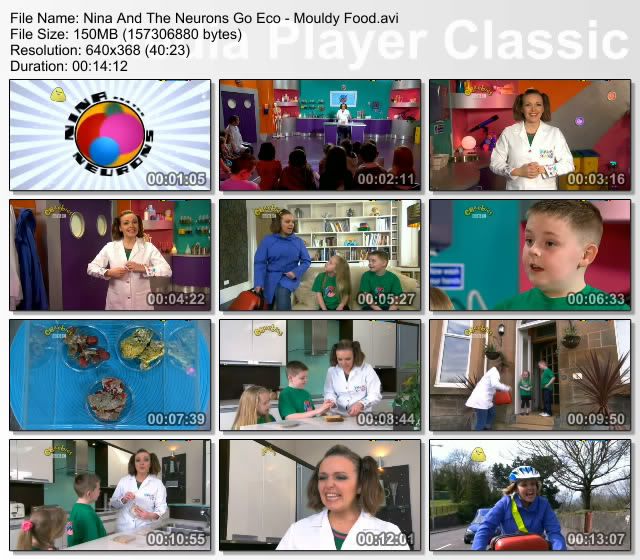 Technical Details:

AVI File Details
========================================
Name.........: Nina And The Neurons Go Eco - Mouldy Food.avi
Filesize.....: 150 MB (or 153,620 KB or 157,306,880 bytes)
Runtime......: 00:14:13 (21,319 fr)
Video Codec..: XviD
Video Bitrate: 1343 kb/s
Audio Codec..: 0x0055(MP3) ID'd as MPEG-1 Layer 3
Audio Bitrate: 128 kb/s (64/ch, stereo) CBR
Frame Size...: 640x368 (1.74:1) [=40:23]

===============================

Some of the other rather spiffing shows available now and always if you signup free @ www.TheBox.bz:

Comedy: The Office, Peep Show, Coupling, Chef, Fawlty Towers, Only Fools and Horses, The IT Crowd, Brass Eye, Nathan Barley, Young Ones, Monty Python, Blackadder, Alan Partridge, Father Ted, Coupling, Little Britain, Mr Bean, Extras, Green Wing, Mighty Boosh

Drama: Casualty, Holby City, The Bill, Hustle, Skins, Shameless, Ashes To Ashes

Entertainment: Faking It, Derren Brown, Scrapheap Challenge, Strictly Come Dancing, Wife Swap

Game/Quiz Shows: Whose Line Is It Anyway?, Have I Got News For You, Deal Or No Deal (UK), Q.I.

Education/Documentary: Planet Earth, Horizon, Panorama, Mark Thomas (Comedy) Product

Food: Hell's Kitchen, Jamie Oliver, The F Word, Kitchen Nightmares, Masterchef, Great British Menu, Gordon Ramsay's Cookalong

Home/Property/Garden: Property Ladder, How Clean Is Your House?, Changing Rooms, Grand Designs, Homes Under The Hammer, To Buy Or Not To Buy

Motoring: Top Gear, Fifth Gear

Music: Top Of The Pops, Jools Holland, Glastonbury

Reality: Big Brother, Celebrity Big Brother, I'm a Celebrity - Get Me Out of Here!, Any Dream Will Do, Grease, Pop Idol, Wife Swap, X Factor, Badger Or Bust, Apprentice UK, Dragons' Den, Britain's Got Talent

Sci-Fi: Doctor Who, Red Dwarf, Torchwood, Primeval

Sport: Football (Soccer), Cricket, Rugby, Snooker, Darts, Formula One (F1GP)

Soaps: Eastenders, Coronation Street, Emmerdale, Neighbours, Hollyoaks

Style/Fashion: What Not To Wear, Project Catwalk

Kids: Teletubbies, Blue Peter, Tikkabilla, Andy Pandy, Postman Pat, Shoebox Zoo, Brum, Bob The Builder, Young Dracula, Sarah Jane Adventures, Shaun The Sheep
related torrents
comments (0)