UK
Little Princess Series 1 (2007) [PDTV (XviD)]
Torrent info
Name:Little Princess Series 1 (2007) [PDTV (XviD)]
Torrent added: 2009-09-01 14:01:16
Torrent Files List
Little Princess - [1x01] - I Want My Tooth.avi (Size: 3.40 GB) (Files: 32)
Little Princess - [1x01] - I Want My Tooth.avi
116.02 MB
Little Princess - [1x02] - I Don't Want Help.avi
115.94 MB
Little Princess - [1x03] - I Don't Want To Go To Bed.avi
115.95 MB
Little Princess - [1x04] - I Don't Know What To Be.avi
116.14 MB
Little Princess - [1x05] - I Want To Whistle.avi
116.02 MB
Little Princess - [1x06] - I Want My Dummy.avi
116.02 MB
Little Princess - [1x07] - I Can't Remember.avi
116.20 MB
Little Princess - [1x08] - I Don't Want A Bath.avi
116.02 MB
Little Princess - [1x09] - I Didn't Do It.avi
115.96 MB
Little Princess - [1x10] - I Don't Want To Comb My Hair.avi
116.02 MB
Little Princess - [1x11] - I Don't Like Salad.avi
116.02 MB
Little Princess - [1x12] - I Want To Do Magic.avi
116.02 MB
Little Princess - [1x13] - I Don't Want To Tidy Up.avi
116.02 MB
Little Princess - [1x14] - I Want A Trumpet.avi
116.02 MB
Little Princess - [1x15] - I Don't Want To Share.avi
116.01 MB
Little Princess - [1x16] - I Don't Like Worms.avi
115.93 MB
Little Princess - [1x17] - I Want My Voice Back.avi
116.02 MB
Little Princess - [1x18] - What's Wrong With Gilbert.avi
116.01 MB
Little Princess - [1x19] - I Want My Tent.avi
115.95 MB
Little Princess - [1x20] - I Want To Win.avi
116.02 MB
Little Princess - [1x21] - I Don't Want A Cold.avi
116.02 MB
Little Princess - [1x22] - Maid's Day Off.avi
116.02 MB
Little Princess - [1x23] - Can I Keep It.avi
115.94 MB
Little Princess - [1x24] - I Want To Cook.avi
115.07 MB
Little Princess - [1x25] - I Don't Like Autumn.avi
116.01 MB
Little Princess - [1x26] - I Don't Want Nits.avi
115.97 MB
Little Princess - [1x27] - I Want My New Shoes.avi
116.20 MB
Little Princess - [1x28] - I Want My Snail.avi
116.02 MB
Little Princess - [1x29] - But They're Mine.avi
116.00 MB
Little Princess - [1x30] - I Want My Sledge.avi
115.99 MB
Little Princess Season_Series 1.jpg
110.49 KB
Little Princess Season_Series 1.nfo
19.03 KB
Announce URL: http://www.thebox.bz:2710/00000000000000000000000000000000/announce
Torrent description
This torrent was uploaded from www.TheBox.bz (signup is open and free) - the home of all British TV

Where: Five or Fiver (formerly Five Life)

When: mornings (between 6 am and 12 noon); original airdates\transmission times unknown but season\series first broadcast in 2007 - these episodes capped from repeats in 2008

About the show:

Little Princess is an animated television series featuring the voices of Julian Clary and Jane Horrocks. Directed by Edward Foster it debuted in the UK in 2006 and is currently shown as part of five's Milkshake!. It is based on the original books by Tony Ross.

The series is narrated by Clary with Horrocks providing the voice of the Little Princess.

Episode Descriptions:

[1x01] - I Want My Tooth
One of the Little Princess's lovely white teeth falls out just before the royal family photograph!

[1x02] - I Don't Want Help
Little Princess is not happy with everyone doing everything for her, but when she decides to go it alone, things are more difficult than she had expected.

[1x03] - I Don't Want To Go To Bed
Little Princess really isn't ready to go to bed. Why should she have to sleep when everyone else is wide awake?

[1x04] - I Don't Know What To Be
Little Princess can't decide what she wants to be when she grows up. So, with the help of her friends, she sets about trying out lots of different jobs.

[1x05] - I Want To Whistle
When Little Princess discovers that everyone in the kingdom can whistle except her, she sets about finding her own special noise.

[1x06] - I Want My Dummy
Little Princess doesn't want to give up her dummy, and when it starts to disappear mysteriously, she is determined to get it back!

[1x07] - I Can't Remember
When the Little Princess borrows the Prime Minister's medals and the General's bearskin, she knows just how precious they are and promises to take extra special care of them. When she then accidentally loses them, her friends are not happy.

[1x08] - I Don't Want A Bath
The Little Princess does not like baths. In fact, she'll do anything to avoid them. It soon becomes clear however that she will not be able to evade them forever and she's going to have to take some precautionary measures.

[1x09] - I Didn't Do It
The Little Princess has been told she can build a play den in the castle as long as she doesn't make any mess. As she sets busily about her work, things don't stay quite as tidy as intended. Then Scruff is blamed for all the mess and put outside in his kennel.

[1x10] - I Don't Want To Comb My Hair
The Little Princess hates having her hair combed. There are always tangles and it always hurts! When the King agrees to put her in charge of combing she makes sure that everyone in the castle has beautifully combed hair, but she leaves her own until last.

[1x11] - I Don't Like Salad
The Little Princess has decided she doesn't like salad. Especially tomatoes. Yuk. But when she's given some seeds and sees the first shoots of her tomato plant appear, she discovers a new best friend.

[1x12] - I Want To Do Magic
The Little Princess is having a magic show. Problem is, she doesn't actually know any magic. With the help of her friends she sets about learning some new tricks. But the Princess is in for a shock when the magic works a bit too well.

[1x13] - I Don't Want To Tidy Up
The Little Princess is fed up with having to put all her toys away just when she's in the middle of things. The King and Queen agree that she can leave her own room in a mess if she wants. But then teddy bear Gilbert goes missing.

[1x14] - I Want A Trumpet
When a music box arrives at the castle, the princess decides to learn to play an instrument. As she practises on her funnel trumpet, however, it seems that not everyone in the castle appreciates her music.

[1x15] - I Don't Want To Share
The princess plays in her new paddling pool on a hot day and is soon joined by the whole household. Feeling squashed, she orders everyone out, but discovers that playing by herself is not much fun.

[1x16] - I Don't Like Worms
Little Princess is having great fun playing in the squishy, dirty mud. But when she finds a slimy worm, she is not impressed.

[1x17] - I Want My Voice Back
Little Princess loves to yell but the rest of the household aren't so keen. When Princess suddenly loses her voice, she must find a new way to make herself heard and it is not long before everyone wants her to get her voice back!

[1x18] - What's Wrong With Gilbert
Teddy Gilbert goes everywhere with Little Princess, until his leg falls off. Though he is mended, the princess decides not to play with him anymore in case he breaks again. But teddies are meant for cuddling and soon Gilbert starts to look neglected.

[1x19] - I Want My Tent
Little Princess is trying to make the perfect tent but every time she finds the right spot, she is told to move.

[1x20] - I Want To Win
Little Princess decides that she is going to win all the games she plays. But she is in for a bit of a shock when someone finally stops her winning streak.

[1x21] - I Don't Want A Cold
The Little Princess has got a cold and she's not happy about it. She's not about to let it spoil her fun though when she can just bend the rules.

[1x22] - Maid's Day Off
The Little Princess wants to be helpful, so when the maid has her day off, she looks after things for her at the castle.

[1x23] - Can I Keep It
Little Princess discovers a tadpole in her glass of water and sets about making him a habitat to live in. But it isn't long before Taddy sprouts legs and keeps the whole castle awake at night with his lonesome croaking.

[1x24] - I Want To Cook
It is the General's birthday, and Little Princess decides to bake him a cake. Will the castle kitchen be big enough for two chefs?

[1x25] - I Don't Like Autumn
When the leaves start falling off the trees and reveal the Little Princess's secret summer hidey-hole, she decides that she is going to stop autumn.

[1x26] - I Don't Want Nits
Little Princess is not happy when she discovers she has nits and the rest of the household are trying to avoid her!

[1x27] - I Want My New Shoes
Little Princess gets a lovely pair of new, sparkly shoes and she really doesn't want to take them off!

[1x28] - I Want My Snail
When Little Princess's pet snail Speedy dies, she decides to give him a proper funeral so she and the household can say goodbye to a good friend.

[1x29] - But They're Mine
Little Princess is getting bigger and she can't fit into her favourite clothes any more. But that doesn't mean she's ready to give them up just yet.

[1x30] - I Want My Sledge
It is winter, and Little Princess is enjoying playing on her old sledge, until Chef whizzes past on his shiny new one. When the King agrees to buy the princess one like it, she discovers that new does not always mean better.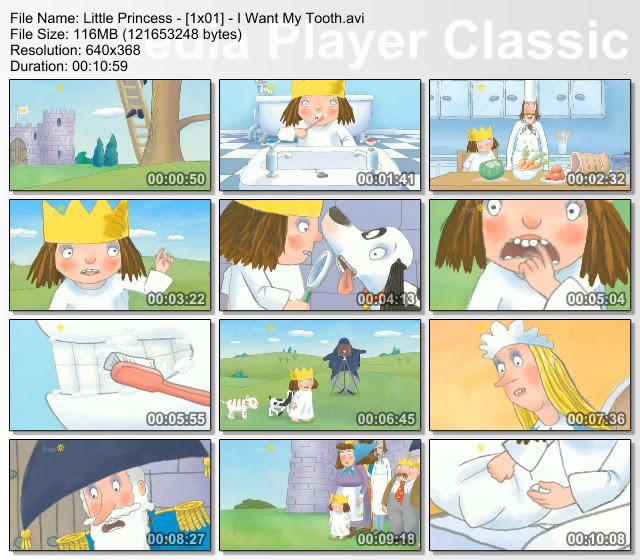 Technical Details:

AVI File Details
========================================
Name.........: Little Princess - [1x01] - I Want My Tooth.avi
Filesize.....: 116 MB (or 118,802 KB or 121,653,248 bytes)
Runtime......: 00:11:00 (16,491 fr)
Video Codec..: XviD
Video Bitrate: 1342 kb/s
Audio Codec..: 0x0055(MP3) ID'd as MPEG-1 Layer 3
Audio Bitrate: 128 kb/s (64/ch, stereo) CBR
Frame Size...: 640x368 (1.74:1) [=40:23]

AVI File Details
========================================
Name.........: Little Princess - [1x02] - I Don't Want Help.avi
Filesize.....: 115 MB (or 118,720 KB or 121,569,280 bytes)
Runtime......: 00:11:00 (16,488 fr)
Video Codec..: XviD
Video Bitrate: 1342 kb/s
Audio Codec..: 0x0055(MP3) ID'd as MPEG-1 Layer 3
Audio Bitrate: 128 kb/s (64/ch, stereo) CBR
Frame Size...: 640x368 (1.74:1) [=40:23]

AVI File Details
========================================
Name.........: Little Princess - [1x03] - I Don't Want To Go To Bed.avi
Filesize.....: 115 MB (or 118,736 KB or 121,585,664 bytes)
Runtime......: 00:11:00 (16,488 fr)
Video Codec..: XviD
Video Bitrate: 1342 kb/s
Audio Codec..: 0x0055(MP3) ID'd as MPEG-1 Layer 3
Audio Bitrate: 128 kb/s (64/ch, stereo) CBR
Frame Size...: 640x368 (1.74:1) [=40:23]

AVI File Details
========================================
Name.........: Little Princess - [1x04] - I Don't Know What To Be.avi
Filesize.....: 116 MB (or 118,932 KB or 121,786,368 bytes)
Runtime......: 00:10:59 (16,477 fr)
Video Codec..: XviD
Video Bitrate: 1344 kb/s
Audio Codec..: 0x0055(MP3) ID'd as MPEG-1 Layer 3
Audio Bitrate: 128 kb/s (64/ch, stereo) CBR
Frame Size...: 640x368 (1.74:1) [=40:23]

AVI File Details
========================================
Name.........: Little Princess - [1x05] - I Want To Whistle.avi
Filesize.....: 116 MB (or 118,802 KB or 121,653,248 bytes)
Runtime......: 00:11:00 (16,490 fr)
Video Codec..: XviD
Video Bitrate: 1343 kb/s
Audio Codec..: 0x0055(MP3) ID'd as MPEG-1 Layer 3
Audio Bitrate: 128 kb/s (64/ch, stereo) CBR
Frame Size...: 640x368 (1.74:1) [=40:23]

AVI File Details
========================================
Name.........: Little Princess - [1x06] - I Want My Dummy.avi
Filesize.....: 116 MB (or 118,800 KB or 121,651,200 bytes)
Runtime......: 00:11:01 (16,534 fr)
Video Codec..: XviD
Video Bitrate: 1339 kb/s
Audio Codec..: 0x0055(MP3) ID'd as MPEG-1 Layer 3
Audio Bitrate: 128 kb/s (64/ch, stereo) CBR
Frame Size...: 640x368 (1.74:1) [=40:23]

AVI File Details
========================================
Name.........: Little Princess - [1x07] - I Can't Remember.avi
Filesize.....: 116 MB (or 118,992 KB or 121,847,808 bytes)
Runtime......: 00:11:00 (16,503 fr)
Video Codec..: XviD
Video Bitrate: 1342 kb/s
Audio Codec..: 0x0055(MP3) ID'd as MPEG-1 Layer 3
Audio Bitrate: 128 kb/s (64/ch, stereo) CBR
Frame Size...: 640x368 (1.74:1) [=40:23]

AVI File Details
========================================
Name.........: Little Princess - [1x08] - I Don't Want A Bath.avi
Filesize.....: 116 MB (or 118,804 KB or 121,655,296 bytes)
Runtime......: 00:11:01 (16,513 fr)
Video Codec..: XviD
Video Bitrate: 1341 kb/s
Audio Codec..: 0x0055(MP3) ID'd as MPEG-1 Layer 3
Audio Bitrate: 128 kb/s (64/ch, stereo) CBR
Frame Size...: 640x368 (1.74:1) [=40:23]

AVI File Details
========================================
Name.........: Little Princess - [1x09] - I Didn't Do It.avi
Filesize.....: 115 MB (or 118,738 KB or 121,587,712 bytes)
Runtime......: 00:11:00 (16,488 fr)
Video Codec..: XviD
Video Bitrate: 1342 kb/s
Audio Codec..: 0x0055(MP3) ID'd as MPEG-1 Layer 3
Audio Bitrate: 128 kb/s (64/ch, stereo) CBR
Frame Size...: 640x368 (1.74:1) [=40:23]

AVI File Details
========================================
Name.........: Little Princess - [1x10] - I Don't Want To Comb My Hair.avi
Filesize.....: 116 MB (or 118,800 KB or 121,651,200 bytes)
Runtime......: 00:11:01 (16,513 fr)
Video Codec..: XviD
Video Bitrate: 1340 kb/s
Audio Codec..: 0x0055(MP3) ID'd as MPEG-1 Layer 3
Audio Bitrate: 128 kb/s (64/ch, stereo) CBR
Frame Size...: 640x368 (1.74:1) [=40:23]

AVI File Details
========================================
Name.........: Little Princess - [1x11] - I Don't Like Salad.avi
Filesize.....: 116 MB (or 118,802 KB or 121,653,248 bytes)
Runtime......: 00:10:59 (16,486 fr)
Video Codec..: XviD
Video Bitrate: 1343 kb/s
Audio Codec..: 0x0055(MP3) ID'd as MPEG-1 Layer 3
Audio Bitrate: 128 kb/s (64/ch, stereo) CBR
Frame Size...: 640x368 (1.74:1) [=40:23]

AVI File Details
========================================
Name.........: Little Princess - [1x12] - I Want To Do Magic.avi
Filesize.....: 116 MB (or 118,800 KB or 121,651,200 bytes)
Runtime......: 00:11:00 (16,511 fr)
Video Codec..: XviD
Video Bitrate: 1341 kb/s
Audio Codec..: 0x0055(MP3) ID'd as MPEG-1 Layer 3
Audio Bitrate: 128 kb/s (64/ch, stereo) CBR
Frame Size...: 640x368 (1.74:1) [=40:23]

AVI File Details
========================================
Name.........: Little Princess - [1x13] - I Don't Want To Tidy Up.avi
Filesize.....: 116 MB (or 118,802 KB or 121,653,248 bytes)
Runtime......: 00:11:01 (16,513 fr)
Video Codec..: XviD
Video Bitrate: 1340 kb/s
Audio Codec..: 0x0055(MP3) ID'd as MPEG-1 Layer 3
Audio Bitrate: 128 kb/s (64/ch, stereo) CBR
Frame Size...: 640x368 (1.74:1) [=40:23]

AVI File Details
========================================
Name.........: Little Princess - [1x14] - I Want A Trumpet.avi
Filesize.....: 116 MB (or 118,800 KB or 121,651,200 bytes)
Runtime......: 00:11:01 (16,513 fr)
Video Codec..: XviD
Video Bitrate: 1340 kb/s
Audio Codec..: 0x0055(MP3) ID'd as MPEG-1 Layer 3
Audio Bitrate: 128 kb/s (64/ch, stereo) CBR
Frame Size...: 640x368 (1.74:1) [=40:23]

AVI File Details
========================================
Name.........: Little Princess - [1x15] - I Don't Want To Share.avi
Filesize.....: 116 MB (or 118,798 KB or 121,649,152 bytes)
Runtime......: 00:11:00 (16,488 fr)
Video Codec..: XviD
Video Bitrate: 1343 kb/s
Audio Codec..: 0x0055(MP3) ID'd as MPEG-1 Layer 3
Audio Bitrate: 128 kb/s (64/ch, stereo) CBR
Frame Size...: 640x368 (1.74:1) [=40:23]

AVI File Details
========================================
Name.........: Little Princess - [1x16] - I Don't Like Worms.avi
Filesize.....: 115 MB (or 118,712 KB or 121,561,088 bytes)
Runtime......: 00:10:59 (16,486 fr)
Video Codec..: XviD
Video Bitrate: 1342 kb/s
Audio Codec..: 0x0055(MP3) ID'd as MPEG-1 Layer 3
Audio Bitrate: 128 kb/s (64/ch, stereo) CBR
Frame Size...: 640x368 (1.74:1) [=40:23]

AVI File Details
========================================
Name.........: Little Princess - [1x17] - I Want My Voice Back.avi
Filesize.....: 116 MB (or 118,800 KB or 121,651,200 bytes)
Runtime......: 00:10:59 (16,485 fr)
Video Codec..: XviD
Video Bitrate: 1343 kb/s
Audio Codec..: 0x0055(MP3) ID'd as MPEG-1 Layer 3
Audio Bitrate: 128 kb/s (64/ch, stereo) CBR
Frame Size...: 640x368 (1.74:1) [=40:23]

AVI File Details
========================================
Name.........: Little Princess - [1x18] - What's Wrong With Gilbert.avi
Filesize.....: 116 MB (or 118,798 KB or 121,649,152 bytes)
Runtime......: 00:10:59 (16,486 fr)
Video Codec..: XviD
Video Bitrate: 1343 kb/s
Audio Codec..: 0x0055(MP3) ID'd as MPEG-1 Layer 3
Audio Bitrate: 128 kb/s (64/ch, stereo) CBR
Frame Size...: 640x368 (1.74:1) [=40:23]

AVI File Details
========================================
Name.........: Little Princess - [1x19] - I Want My Tent.avi
Filesize.....: 115 MB (or 118,736 KB or 121,585,664 bytes)
Runtime......: 00:10:59 (16,486 fr)
Video Codec..: XviD
Video Bitrate: 1342 kb/s
Audio Codec..: 0x0055(MP3) ID'd as MPEG-1 Layer 3
Audio Bitrate: 128 kb/s (64/ch, stereo) CBR
Frame Size...: 640x368 (1.74:1) [=40:23]

AVI File Details
========================================
Name.........: Little Princess - [1x20] - I Want To Win.avi
Filesize.....: 116 MB (or 118,800 KB or 121,651,200 bytes)
Runtime......: 00:10:59 (16,486 fr)
Video Codec..: XviD
Video Bitrate: 1343 kb/s
Audio Codec..: 0x0055(MP3) ID'd as MPEG-1 Layer 3
Audio Bitrate: 128 kb/s (64/ch, stereo) CBR
Frame Size...: 640x368 (1.74:1) [=40:23]

AVI File Details
========================================
Name.........: Little Princess - [1x21] - I Don't Want A Cold.avi
Filesize.....: 116 MB (or 118,800 KB or 121,651,200 bytes)
Runtime......: 00:11:00 (16,509 fr)
Video Codec..: XviD
Video Bitrate: 1341 kb/s
Audio Codec..: 0x0055(MP3) ID'd as MPEG-1 Layer 3
Audio Bitrate: 128 kb/s (64/ch, stereo) CBR
Frame Size...: 640x368 (1.74:1) [=40:23]

AVI File Details
========================================
Name.........: Little Princess - [1x22] - Maid's Day Off.avi
Filesize.....: 116 MB (or 118,800 KB or 121,651,200 bytes)
Runtime......: 00:10:59 (16,486 fr)
Video Codec..: XviD
Video Bitrate: 1343 kb/s
Audio Codec..: 0x0055(MP3) ID'd as MPEG-1 Layer 3
Audio Bitrate: 128 kb/s (64/ch, stereo) CBR
Frame Size...: 640x368 (1.74:1) [=40:23]

AVI File Details
========================================
Name.........: Little Princess - [1x23] - Can I Keep It.avi
Filesize.....: 115 MB (or 118,724 KB or 121,573,376 bytes)
Runtime......: 00:10:59 (16,486 fr)
Video Codec..: XviD
Video Bitrate: 1342 kb/s
Audio Codec..: 0x0055(MP3) ID'd as MPEG-1 Layer 3
Audio Bitrate: 128 kb/s (64/ch, stereo) CBR
Frame Size...: 640x368 (1.74:1) [=40:23]

AVI File Details
========================================
Name.........: Little Princess - [1x24] - I Want To Cook.avi
Filesize.....: 115 MB (or 117,836 KB or 120,664,064 bytes)
Runtime......: 00:11:00 (16,501 fr)
Video Codec..: XviD
Video Bitrate: 1330 kb/s
Audio Codec..: 0x0055(MP3) ID'd as MPEG-1 Layer 3
Audio Bitrate: 128 kb/s (64/ch, stereo) CBR
Frame Size...: 640x368 (1.74:1) [=40:23]

AVI File Details
========================================
Name.........: Little Princess - [1x25] - I Don't Like Autumn.avi
Filesize.....: 116 MB (or 118,798 KB or 121,649,152 bytes)
Runtime......: 00:11:00 (16,511 fr)
Video Codec..: XviD
Video Bitrate: 1341 kb/s
Audio Codec..: 0x0055(MP3) ID'd as MPEG-1 Layer 3
Audio Bitrate: 128 kb/s (64/ch, stereo) CBR
Frame Size...: 640x368 (1.74:1) [=40:23]

AVI File Details
========================================
Name.........: Little Princess - [1x26] - I Don't Want Nits.avi
Filesize.....: 115 MB (or 118,752 KB or 121,602,048 bytes)
Runtime......: 00:11:00 (16,501 fr)
Video Codec..: XviD
Video Bitrate: 1341 kb/s
Audio Codec..: 0x0055(MP3) ID'd as MPEG-1 Layer 3
Audio Bitrate: 128 kb/s (64/ch, stereo) CBR
Frame Size...: 640x368 (1.74:1) [=40:23]

AVI File Details
========================================
Name.........: Little Princess - [1x27] - I Want My New Shoes.avi
Filesize.....: 116 MB (or 118,992 KB or 121,847,808 bytes)
Runtime......: 00:11:00 (16,502 fr)
Video Codec..: XviD
Video Bitrate: 1342 kb/s
Audio Codec..: 0x0055(MP3) ID'd as MPEG-1 Layer 3
Audio Bitrate: 128 kb/s (64/ch, stereo) CBR
Frame Size...: 640x368 (1.74:1) [=40:23]

AVI File Details
========================================
Name.........: Little Princess - [1x28] - I Want My Snail.avi
Filesize.....: 116 MB (or 118,802 KB or 121,653,248 bytes)
Runtime......: 00:11:00 (16,510 fr)
Video Codec..: XviD
Video Bitrate: 1341 kb/s
Audio Codec..: 0x0055(MP3) ID'd as MPEG-1 Layer 3
Audio Bitrate: 128 kb/s (64/ch, stereo) CBR
Frame Size...: 640x368 (1.74:1) [=40:23]

AVI File Details
========================================
Name.........: Little Princess - [1x29] - But They're Mine.avi
Filesize.....: 115 MB (or 118,780 KB or 121,630,720 bytes)
Runtime......: 00:10:59 (16,486 fr)
Video Codec..: XviD
Video Bitrate: 1343 kb/s
Audio Codec..: 0x0055(MP3) ID'd as MPEG-1 Layer 3
Audio Bitrate: 128 kb/s (64/ch, stereo) CBR
Frame Size...: 640x368 (1.74:1) [=40:23]

AVI File Details
========================================
Name.........: Little Princess - [1x30] - I Want My Sledge.avi
Filesize.....: 115 MB (or 118,774 KB or 121,624,576 bytes)
Runtime......: 00:10:59 (16,486 fr)
Video Codec..: XviD
Video Bitrate: 1343 kb/s
Audio Codec..: 0x0055(MP3) ID'd as MPEG-1 Layer 3
Audio Bitrate: 128 kb/s (64/ch, stereo) CBR
Frame Size...: 640x368 (1.74:1) [=40:23]

===============================

Some of the other rather spiffing shows available now and always if you signup free @ www.TheBox.bz:

Comedy: The Office, Peep Show, Coupling, Chef, Fawlty Towers, Only Fools and Horses, The IT Crowd, Brass Eye, Nathan Barley, Young Ones, Monty Python, Blackadder, Alan Partridge, Father Ted, Coupling, Little Britain, Mr Bean, Extras, Green Wing, Mighty Boosh

Drama: Casualty, Holby City, The Bill, Hustle, Skins, Shameless, Ashes To Ashes

Entertainment: Faking It, Derren Brown, Scrapheap Challenge, Strictly Come Dancing, Wife Swap

Game/Quiz Shows: Whose Line Is It Anyway?, Have I Got News For You, Deal Or No Deal (UK), Q.I.

Education/Documentary: Planet Earth, Horizon, Panorama, Mark Thomas (Comedy) Product

Food: Hell's Kitchen, Jamie Oliver, The F Word, Kitchen Nightmares, Masterchef, Great British Menu, Gordon Ramsay's Cookalong

Home/Property/Garden: Property Ladder, How Clean Is Your House?, Changing Rooms, Grand Designs, Homes Under The Hammer, To Buy Or Not To Buy

Motoring: Top Gear, Fifth Gear

Music: Top Of The Pops, Jools Holland, Glastonbury

Reality: Big Brother, Celebrity Big Brother, I'm a Celebrity - Get Me Out of Here!, Any Dream Will Do, Grease, Pop Idol, Wife Swap, X Factor, Badger Or Bust, Apprentice UK, Dragons' Den, Britain's Got Talent

Sci-Fi: Doctor Who, Red Dwarf, Torchwood, Primeval

Sport: Football (Soccer), Cricket, Rugby, Snooker, Darts, Formula One (F1GP)

Soaps: Eastenders, Coronation Street, Emmerdale, Neighbours, Hollyoaks

Style/Fashion: What Not To Wear, Project Catwalk

Kids: Teletubbies, Blue Peter, Tikkabilla, Andy Pandy, Postman Pat, Shoebox Zoo, Brum, Bob The Builder, Young Dracula, Sarah Jane Adventures, Shaun The Sheep
related torrents
Torrent name
health
leech
seeds
Size
Little Princess Vol 1 Bumper Special (2007) [DVDRip (Xvid)]
1
0
694.34 MB
0
Little Princess S02 A Merry Little Christmas avi
0
0
233.00 MB
0
Little Princess Series 2 (2008) Pdtv (xvid)
0
0
2.00 GB
0
Little Princess Vol 3 Winter Fun (2007) [dvdrip (xvid)]
0
0
346.00 MB
0
comments (0)