UK
Hana's Helpline Series 1 (2007) [PDTV (XviD)]
Torrent info
Name:Hana's Helpline Series 1 (2007) [PDTV (XviD)]
Torrent added: 2009-09-01 13:52:17
Torrent Files List
Hana's Helpline - Best Mum In The World.avi (Size: 2.95 GB) (Files: 28)
Hana's Helpline - Best Mum In The World.avi
116.01 MB
Hana's Helpline - Beware Of The Bear.avi
116.01 MB
Hana's Helpline - Brave As A Lion.avi
116.01 MB
Hana's Helpline - Bubble Trouble.avi
116.00 MB
Hana's Helpline - Bully For Douglas.avi
116.01 MB
Hana's Helpline - Cyril The Squirrel.avi
116.01 MB
Hana's Helpline - Dancing Away.avi
116.01 MB
Hana's Helpline - Disappearing Act.avi
116.01 MB
Hana's Helpline - Fibbing Frog.avi
116.00 MB
Hana's Helpline - Gorilla Crossing.avi
116.01 MB
Hana's Helpline - Help I'm Lost.avi
115.98 MB
Hana's Helpline - High & Seek.avi
115.95 MB
Hana's Helpline - I'm A Big Boy.avi
116.00 MB
Hana's Helpline - Little Miss Sulky Pants.avi
116.17 MB
Hana's Helpline - Night Light.avi
116.17 MB
Hana's Helpline - No Fear.avi
116.01 MB
Hana's Helpline - Stop That Ernie.avi
115.96 MB
Hana's Helpline - Storm Brewing.avi
116.17 MB
Hana's Helpline - Super Squirrel.avi
116.00 MB
Hana's Helpline - Team Spirit.avi
115.96 MB
Hana's Helpline - Too Many Hands.avi
116.01 MB
Hana's Helpline - Unwanted Gift.avi
116.00 MB
Hana's Helpline - When Ducklings Dare.avi
116.15 MB
Hana's Helpline - Where's Teddy.avi
116.16 MB
Hana's Helpline - Winging It.avi
116.01 MB
Hana's Helpline - You're A Star.avi
116.01 MB
Hana's Helpline Season_Series 1.jpg
129.37 KB
Hana's Helpline Season_Series 1.nfo
15.70 KB
Torrent description
This torrent was uploaded from www.TheBox.bz (signup is open and free) - the home of all British TV

Where: Five or Fiver

When: mornings (between 06:00 am and 12 noon GMT); original airdates\transmission times unknown but those of repeats given below (see Episode Descriptions)

About the show:
From the production company's (Calon) website (see http://www.calon.tv/hhl/info.htm)

"Are you a little animal with a big problem?

Then phone Hana on
Moo, Baa, Double quack, Double quack…

HANA'S HELPLINE is a series about a duck agony aunt and her duckling son, who help animals who need emotional support. It deals with the kind of social and emotional issues that real children experience at the age they first start going to school."

Episode Descriptions:

Best Mum in The World (09:55 am GMT, 03 January 2009)
Calling Hana today is Lee the lion cub, who is having trouble finding his mum a suitable gift for Mother's Day.

Beware The Bear (09:55 am GMT, 20 December 2008)
Hana the duck offers a helping hand to another of her animal friends as she teaches Bert the bear to look after the belongings of others.

Brave As a Lion (07:50 am GMT, 25 January 2009)
Series about a duck agony aunt who helps animals with their problems. Lee the lion cub is afraid of going to the dentist... Hana to the rescue!

Bubble Trouble (06:55 am GMT, 23 January 2009)
Patsy is a little pig with a personal freshness problem. Hana helps her discover that bathing makes you more popular.

Bully For Douglas (07:00 am GMT, 02 February 2009)
Douglas the duck is being bullied and suffers in silence, but thanks to Hana, he learns to share his problem with his friends.

Cyril The Squirrel (06:55 am GMT, 20 January 2009)
Cyril is a squirrel who can never remember where he has put his belongings. Hana helps him find them with a special song.

Dancing Away (07:00 am GMT, 30 January 2009)
Olivia the octopus is not very good at sport, but under Hana's tutelage she blossoms into a brilliant ballerina.

Disappearing Act (06:55 am GMT, 21 January 2009)
Myrtle the turtle is shy and cannot make friends. Hana and the team help Myrtle come out of her shell.

Fibbing Frog (08:00 am GMT, 24 January 2009)
Ffion the frog always tells terrible fibs to impress her friends. Hana helps her to be happy just being herself.

Gorilla Crossing (06:55 am GMT, 19 January 2009)
Gazza the gorilla is scared of everything, but with Hana's help he braves the great outdoors.

Help I'm Lost (09:40 am GMT, 09 November 2008)
Poor Ellen the ostrich is always getting lost. However, she is soon helped by Hana the duck, who teaches her the difference between left and right.

High & Seek (07:00 am GMT, 29 January 2009)
Hana comes to the aid of Gwenda the giraffe. Gwenda tells Hana that she is terrible at hide and seek because she is just too tall. Hana teaches her that being tall means that you can find friends everywhere.

I'm A Big Boy (09:40 am GMT, 23 November 2008)
Muzzy the mouse is tired of being mocked for his diminutive stature, but Hana the duck shows him how his size can come in useful in a go-kart race.

Little Miss Sulky Pants (09:40 am GMT, 13 December 2008)
Ffion the frog is affronted by the arrival of a skunk foster sister. Will Hana the helpful duck have a way of stopping her sulking?

Night Light (06:55 am GMT, 16 January 2009)
Bert the bear is scared of the dark until Hana introduces him to Fergus, a firefly who cannot sleep.

No Fear (07:40 am GMT, 18 January 2009)
Douglas the duckling is scared of swimming until Hana helps him and his chicken mum take the plunge.

Stop That Ernie (09:40 am GMT, 29 November 2008)
Ernie the eagle's incessant drumming is annoying his peers, but Hana the helpful duck is quick to spot his musical talent.

Storm Brewing (09:40 am GMT, 08 November 2008)
Muzzy the mouse is scared of thunderstorms and goes to agony aunt Hana the duck for help. Hana helps him to control his fear by drawing.

Super Squirrel (09:40 am GMT, 14 December 2008)
Having a fear of heights is impractical for Cyril the squirrel, but perhaps Hana the agony aunt duck has a way of conquering his phobia.

Team Spirit (07:55 am GMT, 17 January 2009)
Rosie the panda thinks she is no good at anything, but Hana helps her realise that everyone is important in a team.

Too Many Hands (06:55 am GMT, 22 January 2009)
Olivia is a little octopus who feels really clumsy until Hana helps her discover that with her hands she can do six things all at once.

Unwanted Gift (09:40 am GMT, 15 November 2008)
The duck agony aunt meets Patsy the piglet, who wants to swap her baby brother for something better. However, Hana persuades her that it's fun to have someone to look after.

When Ducklings Dare (09:55 am GMT, 28 December 2008)
Francis the duckling is finding it hard to master riding a bike, but his mum - Hana the helpful duck - may have the answer.

Where's Teddy? (09:40 am GMT, 07 December 2008)
Patsy Pig has mislaid her favourite teddy bear, but perhaps the search Hana the duck has organised will find him.

Winging It (06:55 am GMT, 15 January 2009)
Ellen the bird is sad because she cannot fly, but Hana helps her discover that she can run really fast!

You're A Star (09:40 am GMT, 06 December 2008)
Mrs Winger is organising the school's nativity play, but is there really no room for Fergus the firefly in the cast? Hana the duck may be able to help out.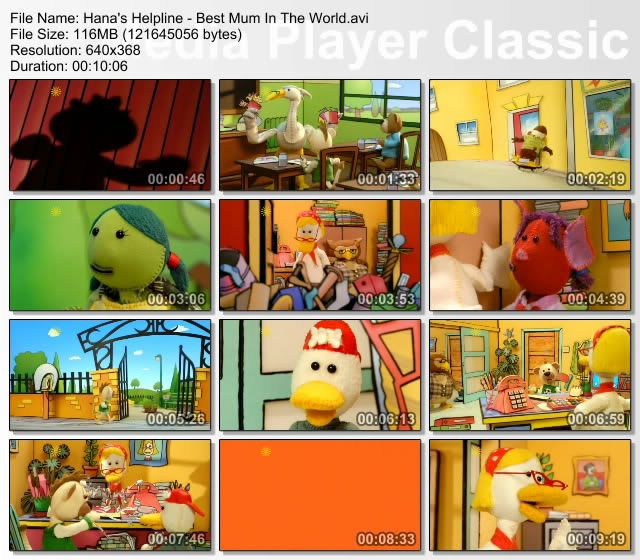 Technical Details:

AVI File Details
========================================
Name.........: Hana's Helpline - Best Mum In The World.avi
Filesize.....: 116 MB (or 118,794 KB or 121,645,056 bytes)
Runtime......: 00:10:06 (15,161 fr)
Video Codec..: XviD
Video Bitrate: 1472 kb/s
Audio Codec..: 0x0055(MP3) ID'd as MPEG-1 Layer 3
Audio Bitrate: 128 kb/s (64/ch, stereo) CBR
Frame Size...: 640x368 (1.74:1) [=40:23]

AVI File Details
========================================
Name.........: Hana's Helpline - Beware Of The Bear.avi
Filesize.....: 116 MB (or 118,794 KB or 121,645,056 bytes)
Runtime......: 00:10:08 (15,188 fr)
Video Codec..: XviD
Video Bitrate: 1469 kb/s
Audio Codec..: 0x0055(MP3) ID'd as MPEG-1 Layer 3
Audio Bitrate: 128 kb/s (64/ch, stereo) CBR
Frame Size...: 640x368 (1.74:1) [=40:23]

AVI File Details
========================================
Name.........: Hana's Helpline - Brave As A Lion.avi
Filesize.....: 116 MB (or 118,794 KB or 121,645,056 bytes)
Runtime......: 00:10:07 (15,164 fr)
Video Codec..: XviD
Video Bitrate: 1471 kb/s
Audio Codec..: 0x0055(MP3) ID'd as MPEG-1 Layer 3
Audio Bitrate: 128 kb/s (64/ch, stereo) CBR
Frame Size...: 640x368 (1.74:1) [=40:23]

AVI File Details
========================================
Name.........: Hana's Helpline - Bubble Trouble.avi
Filesize.....: 116 MB (or 118,784 KB or 121,634,816 bytes)
Runtime......: 00:10:07 (15,163 fr)
Video Codec..: XviD
Video Bitrate: 1471 kb/s
Audio Codec..: 0x0055(MP3) ID'd as MPEG-1 Layer 3
Audio Bitrate: 128 kb/s (64/ch, stereo) CBR
Frame Size...: 640x368 (1.74:1) [=40:23]

AVI File Details
========================================
Name.........: Hana's Helpline - Bully For Douglas.avi
Filesize.....: 116 MB (or 118,796 KB or 121,647,104 bytes)
Runtime......: 00:10:07 (15,185 fr)
Video Codec..: XviD
Video Bitrate: 1469 kb/s
Audio Codec..: 0x0055(MP3) ID'd as MPEG-1 Layer 3
Audio Bitrate: 128 kb/s (64/ch, stereo) CBR
Frame Size...: 640x368 (1.74:1) [=40:23]

AVI File Details
========================================
Name.........: Hana's Helpline - Cyril The Squirrel.avi
Filesize.....: 116 MB (or 118,796 KB or 121,647,104 bytes)
Runtime......: 00:10:06 (15,162 fr)
Video Codec..: XviD
Video Bitrate: 1472 kb/s
Audio Codec..: 0x0055(MP3) ID'd as MPEG-1 Layer 3
Audio Bitrate: 128 kb/s (64/ch, stereo) CBR
Frame Size...: 640x368 (1.74:1) [=40:23]

AVI File Details
========================================
Name.........: Hana's Helpline - Dancing Away.avi
Filesize.....: 116 MB (or 118,792 KB or 121,643,008 bytes)
Runtime......: 00:10:06 (15,161 fr)
Video Codec..: XviD
Video Bitrate: 1472 kb/s
Audio Codec..: 0x0055(MP3) ID'd as MPEG-1 Layer 3
Audio Bitrate: 128 kb/s (64/ch, stereo) CBR
Frame Size...: 640x368 (1.74:1) [=40:23]

AVI File Details
========================================
Name.........: Hana's Helpline - Disappearing Act.avi
Filesize.....: 116 MB (or 118,794 KB or 121,645,056 bytes)
Runtime......: 00:10:05 (15,135 fr)
Video Codec..: XviD
Video Bitrate: 1475 kb/s
Audio Codec..: 0x0055(MP3) ID'd as MPEG-1 Layer 3
Audio Bitrate: 128 kb/s (64/ch, stereo) CBR
Frame Size...: 640x368 (1.74:1) [=40:23]

AVI File Details
========================================
Name.........: Hana's Helpline - Fibbing Frog.avi
Filesize.....: 116 MB (or 118,786 KB or 121,636,864 bytes)
Runtime......: 00:10:08 (15,188 fr)
Video Codec..: XviD
Video Bitrate: 1469 kb/s
Audio Codec..: 0x0055(MP3) ID'd as MPEG-1 Layer 3
Audio Bitrate: 128 kb/s (64/ch, stereo) CBR
Frame Size...: 640x368 (1.74:1) [=40:23]

AVI File Details
========================================
Name.........: Hana's Helpline - Gorilla Crossing.avi
Filesize.....: 116 MB (or 118,792 KB or 121,643,008 bytes)
Runtime......: 00:10:07 (15,163 fr)
Video Codec..: XviD
Video Bitrate: 1472 kb/s
Audio Codec..: 0x0055(MP3) ID'd as MPEG-1 Layer 3
Audio Bitrate: 128 kb/s (64/ch, stereo) CBR
Frame Size...: 640x368 (1.74:1) [=40:23]

AVI File Details
========================================
Name.........: Hana's Helpline - Help I'm Lost.avi
Filesize.....: 115 MB (or 118,760 KB or 121,610,240 bytes)
Runtime......: 00:10:08 (15,188 fr)
Video Codec..: XviD
Video Bitrate: 1468 kb/s
Audio Codec..: 0x0055(MP3) ID'd as MPEG-1 Layer 3
Audio Bitrate: 128 kb/s (64/ch, stereo) CBR
Frame Size...: 640x368 (1.74:1) [=40:23]

AVI File Details
========================================
Name.........: Hana's Helpline - High & Seek.avi
Filesize.....: 115 MB (or 118,728 KB or 121,577,472 bytes)
Runtime......: 00:10:07 (15,186 fr)
Video Codec..: XviD
Video Bitrate: 1468 kb/s
Audio Codec..: 0x0055(MP3) ID'd as MPEG-1 Layer 3
Audio Bitrate: 128 kb/s (64/ch, stereo) CBR
Frame Size...: 640x368 (1.74:1) [=40:23]

AVI File Details
========================================
Name.........: Hana's Helpline - I'm A Big Boy.avi
Filesize.....: 115 MB (or 118,782 KB or 121,632,768 bytes)
Runtime......: 00:10:06 (15,151 fr)
Video Codec..: XviD
Video Bitrate: 1473 kb/s
Audio Codec..: 0x0055(MP3) ID'd as MPEG-1 Layer 3
Audio Bitrate: 128 kb/s (64/ch, stereo) CBR
Frame Size...: 640x368 (1.74:1) [=40:23]

AVI File Details
========================================
Name.........: Hana's Helpline - Little Miss Sulky Pants.avi
Filesize.....: 116 MB (or 118,958 KB or 121,812,992 bytes)
Runtime......: 00:10:07 (15,178 fr)
Video Codec..: XviD
Video Bitrate: 1471 kb/s
Audio Codec..: 0x0055(MP3) ID'd as MPEG-1 Layer 3
Audio Bitrate: 128 kb/s (64/ch, stereo) CBR
Frame Size...: 640x368 (1.74:1) [=40:23]

AVI File Details
========================================
Name.........: Hana's Helpline - Night Light.avi
Filesize.....: 116 MB (or 118,962 KB or 121,817,088 bytes)
Runtime......: 00:10:07 (15,179 fr)
Video Codec..: XviD
Video Bitrate: 1471 kb/s
Audio Codec..: 0x0055(MP3) ID'd as MPEG-1 Layer 3
Audio Bitrate: 128 kb/s (64/ch, stereo) CBR
Frame Size...: 640x368 (1.74:1) [=40:23]

AVI File Details
========================================
Name.........: Hana's Helpline - No Fear.avi
Filesize.....: 116 MB (or 118,798 KB or 121,649,152 bytes)
Runtime......: 00:10:07 (15,187 fr)
Video Codec..: XviD
Video Bitrate: 1469 kb/s
Audio Codec..: 0x0055(MP3) ID'd as MPEG-1 Layer 3
Audio Bitrate: 128 kb/s (64/ch, stereo) CBR
Frame Size...: 640x368 (1.74:1) [=40:23]

AVI File Details
========================================
Name.........: Hana's Helpline - Stop That Ernie.avi
Filesize.....: 115 MB (or 118,748 KB or 121,597,952 bytes)
Runtime......: 00:10:06 (15,161 fr)
Video Codec..: XviD
Video Bitrate: 1471 kb/s
Audio Codec..: 0x0055(MP3) ID'd as MPEG-1 Layer 3
Audio Bitrate: 128 kb/s (64/ch, stereo) CBR
Frame Size...: 640x368 (1.74:1) [=40:23]

AVI File Details
========================================
Name.........: Hana's Helpline - Storm Brewing.avi
Filesize.....: 116 MB (or 118,962 KB or 121,817,088 bytes)
Runtime......: 00:10:07 (15,178 fr)
Video Codec..: XviD
Video Bitrate: 1471 kb/s
Audio Codec..: 0x0055(MP3) ID'd as MPEG-1 Layer 3
Audio Bitrate: 128 kb/s (64/ch, stereo) CBR
Frame Size...: 640x368 (1.74:1) [=40:23]

AVI File Details
========================================
Name.........: Hana's Helpline - Super Squirrel.avi
Filesize.....: 116 MB (or 118,788 KB or 121,638,912 bytes)
Runtime......: 00:10:08 (15,188 fr)
Video Codec..: XviD
Video Bitrate: 1469 kb/s
Audio Codec..: 0x0055(MP3) ID'd as MPEG-1 Layer 3
Audio Bitrate: 128 kb/s (64/ch, stereo) CBR
Frame Size...: 640x368 (1.74:1) [=40:23]

AVI File Details
========================================
Name.........: Hana's Helpline - Team Spirit.avi
Filesize.....: 115 MB (or 118,744 KB or 121,593,856 bytes)
Runtime......: 00:10:07 (15,186 fr)
Video Codec..: XviD
Video Bitrate: 1468 kb/s
Audio Codec..: 0x0055(MP3) ID'd as MPEG-1 Layer 3
Audio Bitrate: 128 kb/s (64/ch, stereo) CBR
Frame Size...: 640x368 (1.74:1) [=40:23]

AVI File Details
========================================
Name.........: Hana's Helpline - Too Many Hands.avi
Filesize.....: 116 MB (or 118,794 KB or 121,645,056 bytes)
Runtime......: 00:10:07 (15,187 fr)
Video Codec..: XviD
Video Bitrate: 1469 kb/s
Audio Codec..: 0x0055(MP3) ID'd as MPEG-1 Layer 3
Audio Bitrate: 128 kb/s (64/ch, stereo) CBR
Frame Size...: 640x368 (1.74:1) [=40:23]

AVI File Details
========================================
Name.........: Hana's Helpline - Unwanted Gift.avi
Filesize.....: 116 MB (or 118,784 KB or 121,634,816 bytes)
Runtime......: 00:10:07 (15,186 fr)
Video Codec..: XviD
Video Bitrate: 1469 kb/s
Audio Codec..: 0x0055(MP3) ID'd as MPEG-1 Layer 3
Audio Bitrate: 128 kb/s (64/ch, stereo) CBR
Frame Size...: 640x368 (1.74:1) [=40:23]

AVI File Details
========================================
Name.........: Hana's Helpline - When Ducklings Dare.avi
Filesize.....: 116 MB (or 118,940 KB or 121,794,560 bytes)
Runtime......: 00:10:07 (15,176 fr)
Video Codec..: XviD
Video Bitrate: 1471 kb/s
Audio Codec..: 0x0055(MP3) ID'd as MPEG-1 Layer 3
Audio Bitrate: 128 kb/s (64/ch, stereo) CBR
Frame Size...: 640x368 (1.74:1) [=40:23]

AVI File Details
========================================
Name.........: Hana's Helpline - Where's Teddy.avi
Filesize.....: 116 MB (or 118,950 KB or 121,804,800 bytes)
Runtime......: 00:10:07 (15,178 fr)
Video Codec..: XviD
Video Bitrate: 1470 kb/s
Audio Codec..: 0x0055(MP3) ID'd as MPEG-1 Layer 3
Audio Bitrate: 128 kb/s (64/ch, stereo) CBR
Frame Size...: 640x368 (1.74:1) [=40:23]

AVI File Details
========================================
Name.........: Hana's Helpline - Winging It.avi
Filesize.....: 116 MB (or 118,792 KB or 121,643,008 bytes)
Runtime......: 00:10:06 (15,160 fr)
Video Codec..: XviD
Video Bitrate: 1472 kb/s
Audio Codec..: 0x0055(MP3) ID'd as MPEG-1 Layer 3
Audio Bitrate: 128 kb/s (64/ch, stereo) CBR
Frame Size...: 640x368 (1.74:1) [=40:23]

AVI File Details
========================================
Name.........: Hana's Helpline - You're A Star.avi
Filesize.....: 116 MB (or 118,792 KB or 121,643,008 bytes)
Runtime......: 00:10:08 (15,188 fr)
Video Codec..: XviD
Video Bitrate: 1469 kb/s
Audio Codec..: 0x0055(MP3) ID'd as MPEG-1 Layer 3
Audio Bitrate: 128 kb/s (64/ch, stereo) CBR
Frame Size...: 640x368 (1.74:1) [=40:23]

===============================

Some of the other rather spiffing shows available now and always if you signup free @ www.TheBox.bz:

Comedy: The Office, Peep Show, Coupling, Chef, Fawlty Towers, Only Fools and Horses, The IT Crowd, Brass Eye, Nathan Barley, Young Ones, Monty Python, Blackadder, Alan Partridge, Father Ted, Coupling, Little Britain, Mr Bean, Extras, Green Wing, Mighty Boosh

Drama: Casualty, Holby City, The Bill, Hustle, Skins, Shameless, Ashes To Ashes

Entertainment: Faking It, Derren Brown, Scrapheap Challenge, Strictly Come Dancing, Wife Swap

Game/Quiz Shows: Whose Line Is It Anyway?, Have I Got News For You, Deal Or No Deal (UK), Q.I.

Education/Documentary: Planet Earth, Horizon, Panorama, Mark Thomas (Comedy) Product

Food: Hell's Kitchen, Jamie Oliver, The F Word, Kitchen Nightmares, Masterchef, Great British Menu, Gordon Ramsay's Cookalong

Home/Property/Garden: Property Ladder, How Clean Is Your House?, Changing Rooms, Grand Designs, Homes Under The Hammer, To Buy Or Not To Buy

Motoring: Top Gear, Fifth Gear

Music: Top Of The Pops, Jools Holland, Glastonbury

Reality: Big Brother, Celebrity Big Brother, I'm a Celebrity - Get Me Out of Here!, Any Dream Will Do, Grease, Pop Idol, Wife Swap, X Factor, Badger Or Bust, Apprentice UK, Dragons' Den, Britain's Got Talent

Sci-Fi: Doctor Who, Red Dwarf, Torchwood, Primeval

Sport: Football (Soccer), Cricket, Rugby, Snooker, Darts, Formula One (F1GP)

Soaps: Eastenders, Coronation Street, Emmerdale, Neighbours, Hollyoaks

Style/Fashion: What Not To Wear, Project Catwalk

Kids: Teletubbies, Blue Peter, Tikkabilla, Andy Pandy, Postman Pat, Shoebox Zoo, Brum, Bob The Builder, Young Dracula, Sarah Jane Adventures, Shaun The Sheep
related torrents
Torrent name
health
leech
seeds
Size
Filter Magazine Subway Series 2007 (320 kbps MP3) [JCP]
2
3
180.29 MB
0
Paris City of Dreams Series (2007) [TVRip (XviD)]
1
19
1.76 GB
0
comments (0)