UK
Fireman Sam Series 5 (2005) [PDTV (XviD)]
Torrent info
Torrent Files List
Torrent description
This torrent was uploaded from www.TheBox.bz (signup is open and free) - the home of all British TV

Where: CBeebies (either on its own channel or on BBC2)

When: mornings (between 06:00 am and 12 noon GMT); first broadcast in April, May and December 2005 - for exact original airdates see Episode Descriptions; these were captured from repeats in 2006.

About the show:

Edited from the Wikipedia entry (see http://en.wikipedia.org/wiki/Fireman_Sam):

"Fireman Sam (Welsh: Sam Tân) is a Welsh stop-motion animation children's television series about a fireman called Sam, his fellow firefighters, and other townspeople in the Welsh town of Pontypandy (a portmanteau of two real towns, Pontypridd and Tonypandy, which are situated approximately 5 miles apart in the South Wales valleys). The original idea for the show came from two ex-firemen from Kent. They took their idea to S4C who saw the potential in the series and commissioned it.

Fireman Sam first appeared in his native Welsh language on S4C in 1985 and later in English throughout the United Kingdom on BBC1 in 1987. The series finished in 1994 but remains popular well over a decade after the last episode was aired. The series was also shown dubbed in Gaelic in Scotland, where it was known as Sam Smalaidh. The series has been sold to over 40 countries, from Australia to Norway and is used across the UK to promote fire safety.

The series originally comprised 32 ten-minute episodes and a 20-minute Christmas special. The narration and character voices were done by John Alderton.

Between 2003 and 2005, a new "Fireman Sam" series was produced by Siriol Productions (now known as Calon TV), comprising twenty-six episodes, each ten minutes in length. These episodes used more modern techniques of stop-motion animation. The new series features all the original characters, but also adds some new faces, such as Tom Thomas, the Australian pilot of rescue helicopter Wallaby One.

Unlike the original series, in which all of the characters were voiced by one person, the new series employed three principal voice artists; however, original voice-actor John Alderton was not one of them. In the new series, the voice of Sam and other male characters was provided by comedian John Sparkes. The other voice artists were Joanna Ruiz and Sarah Hadland."

Characters

Firefighters

Fireman Sam Jones is referred to as the "hero next door". He is the archetypal fireman, who remains composed in an emergency and unfailingly offers assistance to all those in need. Sam is not married, but maintains a close relationship with his nephew, James, and niece, Sarah. Sam spends his spare time in his "inventing shed", in which he makes devices ranging from a potato picker made from old bicycle parts to a machine capable of replacing the town band.

On occasion his inventive streak can undermine his emphasis on fire safety. His catchphrase is "Great fires of London!"

Firefighter Elvis Cridlington provides a contrast to Sam in both competency and demeanour. Elvis is an exuberant rock 'n' roll fan and an appalling cook. He failed his 11+ exam at school. His catchphrase is "Great balls of fire!"

Station officer Basil Steele is the chief of Pontypandy Fire Station. As a former army officer, he insists upon a high standard of both hygiene and efficiency in the station. His catchphrase in the old series was "Now who need the fire service?" but in the new series it is "Action stations men!". Basil may be married to Doris, a character who does not appear but whom Basil mentions once in Telly Trouble (Series 2).

Firefighter Penny Morris is the only female member of the Pontypandy fire brigade. In the original series, she only visited occasionally (hailing from Newtown fire station), although in the new series, she seems to work at Pontypandy full time. Penny doubles as a mechanic. Her ideas are often unconventional and at odds with her male colleagues, but she usually turns out to have been right. Penny is often known to go on adventures with the town's children; James and Sarah.

Auxiliary fireman Trevor Evans is an auxiliary fireman with the brigade. His other job is the town's bus driver. He is known for his awkward manner and general bad luck streak, but nonetheless exhibits a great devotion to the welfare of others (especially Dilys). In the new series Trevor is no longer an auxiliary firefighter but he is still the bus driver, but still shows affection to Dilys. His catchphrase when things go wrong is "Oh, bother!"

Townspeople

Dilys Price runs the town grocery store. She is a well known gossip, and has great affection for Trevor, the bus driver. Dilys is the mother of town mischief-maker Norman Price, but is frequently blind to her son's troublesome ways. She dotes on her only child, or 'Mummy's Little Darling' as she sometimes calls him.

Bella Lasagne is the absent-minded town cafe owner, originally from Italy.

Helen Flood, Caribbean born nurse and mother of Mandy Flood. (2005 season)

Mike Flood, handyman husband of Helen and father of Mandy. (2005 season)

Tom Thomas, a mountain rescue worker who hails from Australia. Tom is most often seen flying to the rescue in his helicopter or driving his SUV (2005 season).

Children

Sarah and James are the relatively well-behaved five-year-old niece and nephew of Fireman Sam. They are often more sensible in an emergency than Norman. When they grow up they want to be firefighters like their uncle Sam.

Norman Price is a six-year-old boy with a love of practical jokes and skateboarding. Unfortunately, Norman regularly fails to set appropriate limits on his own behaviour, and has been known to cause mischief and sometimes causes havoc at the fire station, for many of Pontypandy's residents.

Mandy Flood, Norman's best friend. She is sort of a bridge between naughty Norman and the well behaved Sarah and James. (2005 season)

Vehicles

Jupiter is a bright red fire engine driven by Fireman Sam and based on a 1974 Bedford TK and is also based on a 1990 Bedford 6x4 (2005 season). It is always taken to rescues.

Venus is a rescue tender driven by Penny Morris based on a 1982 Range Rover. It sometimes taken to a rescue to carry Penny if the entire crew is going, or it is simply additionaly taken along.

Nurse Flood's car is driven by Nurse Helen Flood, but has an unknown base. (2005 season)

Wallaby One is a helicopter flown by Tom Thomas and based on a 1980 Bell 222. (2005 season)

Rescue Jeep is also driven and owned by Tom Thomas, based on a 1976 Range Rover jeep. (2005 season)

The Bus is driven by Trevor Evans, and based on a 1975 Ford Transit Dormobile.

Animals

Rosa is Bella's temperamental cat.

Dusty is a stray dog, usually found hanging around the fire station. (2005 season)

Woolly is a lamb who Norman Price adopts after they were rescued from a mountainside. Rather bouncy and playful (2005 season)"

Episode Descriptions:

[5x01] - Danger Falling Sheep (04 April 2005)
Norman tries to climb Pontypandy mountain, but his expedition comes to an abrupt end when a sheep falls on his head, leaving Sam to organise a rescue attempt.

[5x02] - The Big Freeze (05 April 2005)
Norman raises everyone's temperature with the bed he builds for his pet lamb Woolly.

[5x03] - Twist Of Fate (06 April 2005)
Station Officer Steele gets into a spot of bother when he takes Norman and Mandy pot-holing in Big Cave.

[5x04] - A Real Live Wire (07 April 2005)
Mandy's decision to rescue a squirrel backfires when she leaves it alone in her bedroom.

[5x05] - Bug Eyed Boy From Venus (08 April 2005)
An alien gets trapped in Pontypandy while trying to escape from Trevor and the twins, but all is not as it initially seems.

[5x06] - Bathtime For Dusty (11 April 2005)
Dusty the dog is chosen to be the fire service mascot - but first needs a bath.

[5x07] - Neighbourhood Watch Out (12 April 2005)
Mandy, Sarah and James start a neighbourhood watch scheme, but leave Mike stuck on a roof.

[5x08] - Twitchers In Trouble (13 April 2005)
Norman starts a forest fire, trapping Trevor and Dilys in their birdwatching hide - so Tom douses the blaze by dropping water from his helicopter.

[5x09] - Carnival Of Junk (14 April 2005)
Mike organises a Caribbean carnival and Sam uses his cutting gear to rescue James from underneath a boiler.

[5x10] - Mummy's Little Pumpkin (15 April 2005)
The residents of Pontypandy celebrate Hallowe'en but disaster strikes when Sam gives Norman a pumpkin to make into a lantern.

[5x11] - Joker Soaker (18 April 2005)
A drought hits Pontypandy, so Norman isn't allowed to use his new water pistol.

[5x12] - Fit for Nothing (19 April 2005)
Sarah and her cat get stuck under a barbed wire fence during a thunderstorm.

[5x13] - Deep Water (20 April 2005)
Mandy tumbles into a Celtic burial mound and comes out with her pockets full of treasure.

[5x14] - Beast Of Pontypandy (21 April 2005)
Norman convinces everyone there is a mysterious beast on the loose in Pontypandy.

[5x15] - Pizza Palaver (22 April 2005)
Sam has to put out a chimney fire at the cafe when Norman and Mandy help Bella make pizzas.

[5x16] - Fun Run (25 April 2005)
The village holds a fun run, and Norman resorts to cheating in his eagerness to win - but changes his ways when James twists his ankle.

[5x17] - Trouble and Squeak (26 April 2005)
Norman has to look after the school mouse - but it escapes and gets chased up a chimney by Bella's cat.

[5x18] - King Of The Jungle (27 April 2005)
Norman uses his special Tarzan-like jungle cry to save the day when a haystack catches fire.

[5x19] - Norman's Invisible Friend (28 April 2005)
Norman tells people he has an invisible friend so that he can get double helpings, but his scheming soon catches up with him.

[5x20] - High Jinks (29 April 2005)
Norman comes up with a new way of delivering his newspapers but gets into trouble when he is hit by a huge gust of wind.

[5x21] - The Case Of The Liquorice Shoelaces (03 May 2005)
Norman is accused of stealing from Dilys's shop - but for once he is not to blame.

[5x22] - Fiery Finale (04 May 2005)
Norman's act causes havoc at the Pontypandy talent show when he starts a fire, so Sam steps in to douse the flames.

[5x23] - Birthday Surprise (05 May 2005)
The villagers hold a surprise party for Sam's birthday - but Norman has a hard time stopping the fireman from finding out.

[5x24] - Firefigter Of Tomorrow (06 May 2005)
Norman wants to be a fireman when he grows up, and tries to prove himself by rescuing Rosa the cat.

[5x25] - Fields Of Fire (07 May 2005)
Trevor's bus breaks down on the way to the seaside, and a campfire gets out of control - but Sam's latest gadget is just the thing to put it out.

[5x26] - Let It Snow (26 December 2005)
Norman and Dusty go in search of a Christmas tree for the town, but end up caught in an avalanche.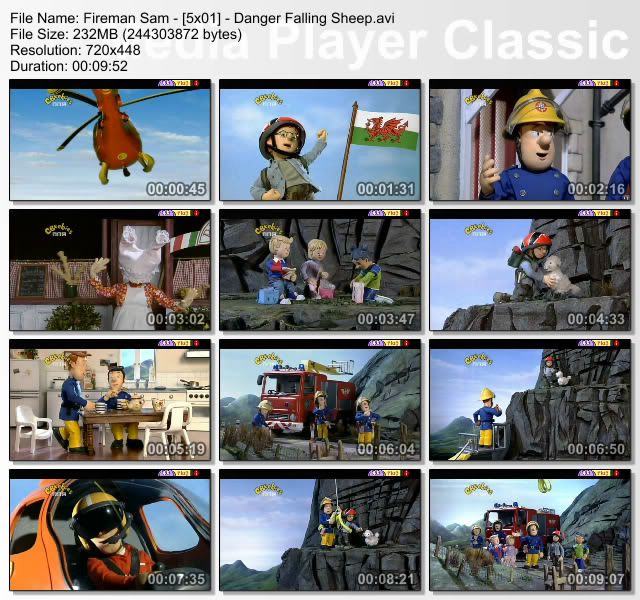 Technical Details:

AVI File Details
========================================
Name.........: Fireman Sam - [5x01] - Danger Falling Sheep.avi
Filesize.....: 232 MB (or 238,578 KB or 244,303,872 bytes)
Runtime......: 00:09:53 (14,820 fr)
Video Codec..: XviD
Video Bitrate: 3107 kb/s
Audio Codec..: 0x0055(MP3) ID'd as MPEG-1 Layer 3
Audio Bitrate: 182 kb/s (91/ch, stereo) VBR
Frame Size...: 720x448 (1.61:1) [=45:28]

AVI File Details
========================================
Name.........: Fireman Sam - [5x02] - The Big Freeze.avi
Filesize.....: 233 MB (or 238,612 KB or 244,338,688 bytes)
Runtime......: 00:10:00 (14,988 fr)
Video Codec..: XviD
Video Bitrate: 3072 kb/s
Audio Codec..: 0x0055(MP3) ID'd as MPEG-1 Layer 3
Audio Bitrate: 180 kb/s (90/ch, stereo) VBR
Frame Size...: 720x448 (1.61:1) [=45:28]

AVI File Details
========================================
Name.........: Fireman Sam - [5x03] - Twist Of Fate.avi
Filesize.....: 232 MB (or 238,566 KB or 244,291,584 bytes)
Runtime......: 00:10:00 (15,000 fr)
Video Codec..: XviD
Video Bitrate: 3067 kb/s
Audio Codec..: 0x0055(MP3) ID'd as MPEG-1 Layer 3
Audio Bitrate: 181 kb/s (90/ch, stereo) VBR
Frame Size...: 720x448 (1.61:1) [=45:28]

AVI File Details
========================================
Name.........: Fireman Sam - [5x04] - A Real Live Wire.avi
Filesize.....: 232 MB (or 238,338 KB or 244,058,112 bytes)
Runtime......: 00:10:00 (14,988 fr)
Video Codec..: XviD
Video Bitrate: 3067 kb/s
Audio Codec..: 0x0055(MP3) ID'd as MPEG-1 Layer 3
Audio Bitrate: 181 kb/s (90/ch, stereo) VBR
Frame Size...: 720x448 (1.61:1) [=45:28]

AVI File Details
========================================
Name.........: Fireman Sam - [5x05] - Bug Eyed Boy From Venus.avi
Filesize.....: 229 MB (or 235,056 KB or 240,697,344 bytes)
Runtime......: 00:10:00 (15,000 fr)
Video Codec..: XviD
Video Bitrate: 3020 kb/s
Audio Codec..: 0x0055(MP3) ID'd as MPEG-1 Layer 3
Audio Bitrate: 181 kb/s (90/ch, stereo) VBR
Frame Size...: 720x448 (1.61:1) [=45:28]

AVI File Details
========================================
Name.........: Fireman Sam - [5x06] - Bathtime For Dusty.avi
Filesize.....: 233 MB (or 238,596 KB or 244,322,304 bytes)
Runtime......: 00:09:59 (14,976 fr)
Video Codec..: XviD
Video Bitrate: 3073 kb/s
Audio Codec..: 0x0055(MP3) ID'd as MPEG-1 Layer 3
Audio Bitrate: 181 kb/s (90/ch, stereo) VBR
Frame Size...: 720x448 (1.61:1) [=45:28]

AVI File Details
========================================
Name.........: Fireman Sam - [5x07] - Neighbourhood Watch Out.avi
Filesize.....: 232 MB (or 238,586 KB or 244,312,064 bytes)
Runtime......: 00:10:00 (14,988 fr)
Video Codec..: XviD
Video Bitrate: 3071 kb/s
Audio Codec..: 0x0055(MP3) ID'd as MPEG-1 Layer 3
Audio Bitrate: 181 kb/s (90/ch, stereo) VBR
Frame Size...: 720x448 (1.61:1) [=45:28]

AVI File Details
========================================
Name.........: Fireman Sam - [5x08] - Twitchers In Trouble.avi
Filesize.....: 233 MB (or 238,600 KB or 244,326,400 bytes)
Runtime......: 00:09:59 (14,976 fr)
Video Codec..: XviD
Video Bitrate: 3072 kb/s
Audio Codec..: 0x0055(MP3) ID'd as MPEG-1 Layer 3
Audio Bitrate: 182 kb/s (91/ch, stereo) VBR
Frame Size...: 720x448 (1.61:1) [=45:28]

AVI File Details
========================================
Name.........: Fireman Sam - [5x09] - Carnival Of Junk.avi
Filesize.....: 231 MB (or 236,720 KB or 242,401,280 bytes)
Runtime......: 00:10:00 (15,012 fr)
Video Codec..: XviD
Video Bitrate: 3041 kb/s
Audio Codec..: 0x0055(MP3) ID'd as MPEG-1 Layer 3
Audio Bitrate: 180 kb/s (90/ch, stereo) VBR
Frame Size...: 720x416 (1.73:1) [=45:26]

AVI File Details
========================================
Name.........: Fireman Sam - [5x10] - Mummy's Little Pumpkin.avi
Filesize.....: 233 MB (or 238,604 KB or 244,330,496 bytes)
Runtime......: 00:10:00 (14,988 fr)
Video Codec..: XviD
Video Bitrate: 3127 kb/s
Audio Codec..: 0x0055(MP3) ID'd as MPEG-1 Layer 3
Audio Bitrate: 128 kb/s (64/ch, stereo) CBR
Frame Size...: 704x432 (1.63:1) [=44:27]

AVI File Details
========================================
Name.........: Fireman Sam - [5x11] - Joker Soaker.avi
Filesize.....: 232 MB (or 238,588 KB or 244,314,112 bytes)
Runtime......: 00:10:00 (15,000 fr)
Video Codec..: XviD
Video Bitrate: 3069 kb/s
Audio Codec..: 0x0055(MP3) ID'd as MPEG-1 Layer 3
Audio Bitrate: 180 kb/s (90/ch, stereo) VBR
Frame Size...: 720x416 (1.73:1) [=45:26]

AVI File Details
========================================
Name.........: Fireman Sam - [5x12] - Fit For Nothing.avi
Filesize.....: 233 MB (or 238,604 KB or 244,330,496 bytes)
Runtime......: 00:10:00 (14,999 fr)
Video Codec..: XviD
Video Bitrate: 3125 kb/s
Audio Codec..: 0x0055(MP3) ID'd as MPEG-1 Layer 3
Audio Bitrate: 128 kb/s (64/ch, stereo) CBR
Frame Size...: 720x448 (1.61:1) [=45:28]

AVI File Details
========================================
Name.........: Fireman Sam - [5x13] - Deep Water.avi
Filesize.....: 232 MB (or 238,412 KB or 244,133,888 bytes)
Runtime......: 00:10:00 (14,988 fr)
Video Codec..: XviD
Video Bitrate: 3071 kb/s
Audio Codec..: 0x0055(MP3) ID'd as MPEG-1 Layer 3
Audio Bitrate: 178 kb/s (89/ch, stereo) VBR
Frame Size...: 720x448 (1.61:1) [=45:28]

AVI File Details
========================================
Name.........: Fireman Sam - [5x14] - Beast Of Pontypandy.avi
Filesize.....: 231 MB (or 236,564 KB or 242,241,536 bytes)
Runtime......: 00:10:00 (14,988 fr)
Video Codec..: XviD
Video Bitrate: 3043 kb/s
Audio Codec..: 0x0055(MP3) ID'd as MPEG-1 Layer 3
Audio Bitrate: 181 kb/s (90/ch, stereo) VBR
Frame Size...: 720x448 (1.61:1) [=45:28]

AVI File Details
========================================
Name.........: Fireman Sam - [5x15] - Pizza Palaver.avi
Filesize.....: 233 MB (or 238,602 KB or 244,328,448 bytes)
Runtime......: 00:10:00 (14,988 fr)
Video Codec..: XviD
Video Bitrate: 3073 kb/s
Audio Codec..: 0x0055(MP3) ID'd as MPEG-1 Layer 3
Audio Bitrate: 179 kb/s (89/ch, stereo) VBR
Frame Size...: 720x416 (1.73:1) [=45:26]

AVI File Details
========================================
Name.........: Fireman Sam - [5x16] - Fun Run.avi
Filesize.....: 232 MB (or 238,588 KB or 244,314,112 bytes)
Runtime......: 00:10:00 (15,000 fr)
Video Codec..: XviD
Video Bitrate: 3069 kb/s
Audio Codec..: 0x0055(MP3) ID'd as MPEG-1 Layer 3
Audio Bitrate: 180 kb/s (90/ch, stereo) VBR
Frame Size...: 704x432 (1.63:1) [=44:27]

AVI File Details
========================================
Name.........: Fireman Sam - [5x17] - Trouble And Squeak.avi
Filesize.....: 233 MB (or 238,610 KB or 244,336,640 bytes)
Runtime......: 00:10:00 (14,999 fr)
Video Codec..: XviD
Video Bitrate: 3125 kb/s
Audio Codec..: 0x0055(MP3) ID'd as MPEG-1 Layer 3
Audio Bitrate: 128 kb/s (64/ch, stereo) CBR
Frame Size...: 720x448 (1.61:1) [=45:28]

AVI File Details
========================================
Name.........: Fireman Sam - [5x18] - King Of The Jungle.avi
Filesize.....: 233 MB (or 238,594 KB or 244,320,256 bytes)
Runtime......: 00:10:00 (15,012 fr)
Video Codec..: XviD
Video Bitrate: 3066 kb/s
Audio Codec..: 0x0055(MP3) ID'd as MPEG-1 Layer 3
Audio Bitrate: 180 kb/s (90/ch, stereo) VBR
Frame Size...: 704x432 (1.63:1) [=44:27]

AVI File Details
========================================
Name.........: Fireman Sam - [5x19] - Norman's Invisible Friend.avi
Filesize.....: 233 MB (or 238,622 KB or 244,348,928 bytes)
Runtime......: 00:10:01 (15,024 fr)
Video Codec..: XviD
Video Bitrate: 3064 kb/s
Audio Codec..: 0x0055(MP3) ID'd as MPEG-1 Layer 3
Audio Bitrate: 180 kb/s (90/ch, stereo) VBR
Frame Size...: 720x448 (1.61:1) [=45:28]

AVI File Details
========================================
Name.........: Fireman Sam - [5x20] - High Jinx.avi
Filesize.....: 233 MB (or 238,766 KB or 244,496,384 bytes)
Runtime......: 00:10:00 (14,997 fr)
Video Codec..: XviD
Video Bitrate: 3126 kb/s
Audio Codec..: 0x0055(MP3) ID'd as MPEG-1 Layer 3
Audio Bitrate: 128 kb/s (64/ch, stereo) CBR
Frame Size...: 720x448 (1.61:1) [=45:28]

AVI File Details
========================================
Name.........: Fireman Sam - [5x21] - The Case Of The Liquorice Shoelaces.avi
Filesize.....: 232 MB (or 238,590 KB or 244,316,160 bytes)
Runtime......: 00:09:57 (14,928 fr)
Video Codec..: XviD
Video Bitrate: 3085 kb/s
Audio Codec..: 0x0055(MP3) ID'd as MPEG-1 Layer 3
Audio Bitrate: 179 kb/s (89/ch, stereo) VBR
Frame Size...: 720x416 (1.73:1) [=45:26]

AVI File Details
========================================
Name.........: Fireman Sam - [5x22] - Fiery Finale.avi
Filesize.....: 232 MB (or 238,476 KB or 244,199,424 bytes)
Runtime......: 00:10:00 (15,012 fr)
Video Codec..: XviD
Video Bitrate: 3065 kb/s
Audio Codec..: 0x0055(MP3) ID'd as MPEG-1 Layer 3
Audio Bitrate: 179 kb/s (89/ch, stereo) VBR
Frame Size...: 720x448 (1.61:1) [=45:28]

AVI File Details
========================================
Name.........: Fireman Sam - [5x23] - Birthday Surprise.avi
Filesize.....: 233 MB (or 238,600 KB or 244,326,400 bytes)
Runtime......: 00:10:01 (15,024 fr)
Video Codec..: XviD
Video Bitrate: 3127 kb/s
Audio Codec..: 0x0055(MP3) ID'd as MPEG-1 Layer 3
Audio Bitrate: 117 kb/s (58/ch, stereo) VBR
Frame Size...: 720x448 (1.61:1) [=45:28]

AVI File Details
========================================
Name.........: Fireman Sam - [5x24] - Firefighter Of Tomorrow.avi
Filesize.....: 233 MB (or 238,642 KB or 244,369,408 bytes)
Runtime......: 00:10:00 (15,000 fr)
Video Codec..: XviD
Video Bitrate: 3068 kb/s
Audio Codec..: 0x0055(MP3) ID'd as MPEG-1 Layer 3
Audio Bitrate: 181 kb/s (90/ch, stereo) VBR
Frame Size...: 720x416 (1.73:1) [=45:26]

AVI File Details
========================================
Name.........: Fireman Sam - [5x25] - Fields Of Fire.avi
Filesize.....: 233 MB (or 238,602 KB or 244,328,448 bytes)
Runtime......: 00:10:00 (14,988 fr)
Video Codec..: XviD
Video Bitrate: 3073 kb/s
Audio Codec..: 0x0055(MP3) ID'd as MPEG-1 Layer 3
Audio Bitrate: 179 kb/s (89/ch, stereo) VBR
Frame Size...: 720x448 (1.61:1) [=45:28]

AVI File Details
========================================
Name.........: Fireman Sam - [5x26] - Let It Snow.avi
Filesize.....: 233 MB (or 238,610 KB or 244,336,640 bytes)
Runtime......: 00:10:00 (14,999 fr)
Video Codec..: XviD
Video Bitrate: 3125 kb/s
Audio Codec..: 0x0055(MP3) ID'd as MPEG-1 Layer 3
Audio Bitrate: 128 kb/s (64/ch, stereo) CBR
Frame Size...: 720x448 (1.61:1) [=45:28]

===============================

Some of the other rather spiffing shows available now and always if you signup free @ www.TheBox.bz:

Comedy: The Office, Peep Show, Coupling, Chef, Fawlty Towers, Only Fools and Horses, The IT Crowd, Brass Eye, Nathan Barley, Young Ones, Monty Python, Blackadder, Alan Partridge, Father Ted, Coupling, Little Britain, Mr Bean, Extras, Green Wing, Mighty Boosh

Drama: Casualty, Holby City, The Bill, Hustle, Skins, Shameless, Ashes To Ashes

Entertainment: Faking It, Derren Brown, Scrapheap Challenge, Strictly Come Dancing, Wife Swap

Game/Quiz Shows: Whose Line Is It Anyway?, Have I Got News For You, Deal Or No Deal (UK), Q.I.

Education/Documentary: Planet Earth, Horizon, Panorama, Mark Thomas (Comedy) Product

Food: Hell's Kitchen, Jamie Oliver, The F Word, Kitchen Nightmares, Masterchef, Great British Menu, Gordon Ramsay's Cookalong

Home/Property/Garden: Property Ladder, How Clean Is Your House?, Changing Rooms, Grand Designs, Homes Under The Hammer, To Buy Or Not To Buy

Motoring: Top Gear, Fifth Gear

Music: Top Of The Pops, Jools Holland, Glastonbury

Reality: Big Brother, Celebrity Big Brother, I'm a Celebrity - Get Me Out of Here!, Any Dream Will Do, Grease, Pop Idol, Wife Swap, X Factor, Badger Or Bust, Apprentice UK, Dragons' Den, Britain's Got Talent

Sci-Fi: Doctor Who, Red Dwarf, Torchwood, Primeval

Sport: Football (Soccer), Cricket, Rugby, Snooker, Darts, Formula One (F1GP)

Soaps: Eastenders, Coronation Street, Emmerdale, Neighbours, Hollyoaks

Style/Fashion: What Not To Wear, Project Catwalk

Kids: Teletubbies, Blue Peter, Tikkabilla, Andy Pandy, Postman Pat, Shoebox Zoo, Brum, Bob The Builder, Young Dracula, Sarah Jane Adventures, Shaun The Sheep
related torrents
comments (0)