Comedy
Just my luck Baciati dalla sfortuna DVDRIP Xvid ENG ITA [tntvillage org]
Torrent info
Name:Just my luck Baciati dalla sfortuna DVDRIP Xvid ENG ITA [tntvillage org]
Torrent added: 2009-08-31 10:04:57
Torrent Files List
Petrie D. - Usa, 2006 - Baciati dalla sfortuna - 1°T.avi (Size: 1.37 GB) (Files: 2)
Petrie D. - Usa, 2006 - Baciati dalla sfortuna - 1°T.avi
699.99 MB
Petrie D. - Usa, 2006 - Baciati dalla sfortuna - 2°T.avi
700.14 MB
Announce URL: http://tracker.tntvillage.scambioetico.org:2710/announce
Torrent description
Just my luck - Baciati dalla sfortuna - DVDRIP Xvid ENG ITA [tntvillage.org]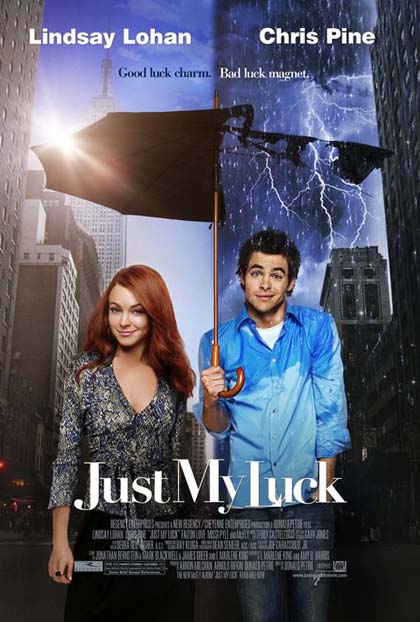 [url]http://imdb.com/title/tt0397078/[/url]

In Manhattan, Ashley Albright is a lucky woman and very successful in the agency where she works. The clumsy Jake Hardin is an unlucky aspirant manager of the rock band McFly, who is unsuccessfully trying to contact the entrepreneur Damon Phillips to promote his band. When Ashley meets Jake in a masquerade party, they kiss each other, swapping her fortune with his bad luck. Written by Claudio Carvalho, Rio de Janeiro, Brazil

Manhattan socialite, Ashley is the luckiest person in New York. Untill, one night she goes to a masquerade ball and meets, Jake. Jake on the other hand has the worst luck. After kissing Jake, Ashley is horrified to find out that she and Jake swapped luck.


Ashley, giovane e sexy addetta alle pubbliche relazioni di una famosa azienda, è molto bella e molto fortunata. Jake, sguattero non pagato in un bowling, nonché maldestro produttore di uno scalcinato gruppo musicale, è invece l'impersonificazione della jella. Durante un incontro a una festa in maschera, i due si baciano, si innamorano e...si scambiano la sorte. Il mondo comincia a sorridere a Jake, mentre sulla buona sorte di Ashley calano le tenebre...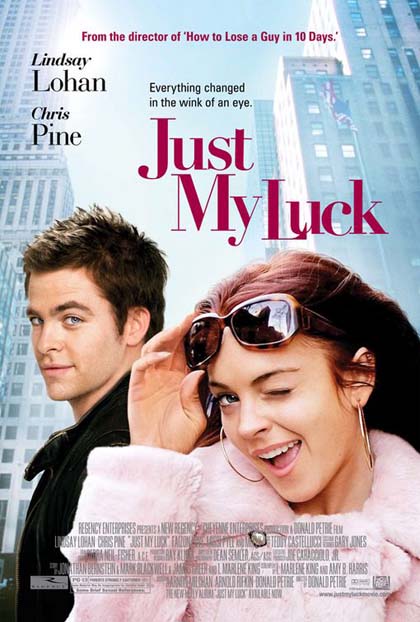 :::->Technical data<-:::

[ Info sul file ]

Nome: Petrie D. - Usa, 2006 - Baciati dalla sfortuna - 1°T.avi
Data: 4/04/2007 02:43:36
Dimensione: 733,995,008 bytes (699.992 MB)

[ Info generiche ]

Durata: 00:47:52 (2872.48 s)
Tipo di contenitore: AVI OpenDML
Streams totali: 3
Tipo stream n. 0: video
Tipo stream n. 1: audio
Tipo stream n. 2: audio
Audio streams: 2
ISFT: VirtualDubMod 1.5.4.1 (build 2178/release)
JUNK: VirtualDubMod build 2178/release

[ Dati rilevanti ]

Risoluzione: 576 x 304
Larghezza: multipla di 32
Altezza: multipla di 16
DRF medio: 3.263465
Deviazione standard: 0.611732
Media pesata dev. std.: 0.440035

[ Traccia video ]

FourCC: xvid/XVID
Risoluzione: 576 x 304
Frame aspect ratio: 36:19 = 1.894736
Pixel aspect ratio: 1:1 = 1
Display aspect ratio: 36:19 = 1.894736
Framerate: 25 fps
Frames totali: 71812
Stream size: 543,878,950 bytes
Bitrate: 1514.729989 kbps
Qf: 0.346018
Key frames: 982 (0; 80; 154; 404; 654; ... 71709)
Null frames: 0
Min key int: 1
Max key int: 250
Key int medio: 73.128309
Ritardo: 0 ms

[ Traccia audio n. 1 ]

Audio tag: 0x2000 (AC3)
Bitrate (contenitore): 384 kbps CBR
Canali (contenitore): 6
Frequenza (contenitore): 48000 Hz
Chunks: 71801
Stream size: 137,879,040 bytes
Preload: 480 ms
Max A/V diff: 496 ms
AC-3 frames: 89765
Durata: 00:47:52 (2872.48 s)
Chunk-aligned: No
Mode: 3 front, 2 rear, 1 LFE
Ritardo: 0 ms

[ Traccia audio n. 2 ]

Audio tag: 0x55 (MP3)
Bitrate (contenitore): 127.432 kbps VBR
Canali (contenitore): 2
Frequenza (contenitore): 48000 Hz
Chunks: 119687
Stream size: 45,867,552 bytes
Preload: 504 ms
Max A/V diff: 520 ms
Tipo: MPEG-1 Layer III
Encoder: LAME3.90. (Made with BeSweet v1.5b30)
MPEG frames: 119687
Durata: 00:47:52 (2872.488 s)
Bitrate (bitstream): 127.743063 kbps VBR
Chunk-aligned: Sì
Emphasis: none
Mode: joint stereo
Ritardo: 0 ms

[ Info sulla codifica MPEG4 ]

User data: XviD0047
Packed bitstream: No
QPel: No
GMC: No
Interlaced: No
Aspect ratio: Square pixels
Quant type: H.263
Frames totali: 71812
Drop/delay frames: 0
Frames corrotti: 0

I-VOPs: 982 ( 1.367 %)
P-VOPs: 31122 ( 43.338 %) ###########
B-VOPs: 39708 ( 55.294 %) ##############
S-VOPs: 0 ( 0.000 %)
N-VOPs: 0 ( 0.000 %)

Max consecutive B-VOPs: 2
1 consec: 18828 ( 64.330 %) ################
2 consec: 10440 ( 35.670 %) #########

[ Analisi DRF ]

DRF medio: 3.263465
Deviazione standard: 0.611732
DRF max: 4

DRF<2: 0 ( 0.000 %)
DRF=2: 6469 ( 9.008 %) ##
DRF=3: 39954 ( 55.637 %) ##############
DRF=4: 25389 ( 35.355 %) #########
DRF>4: 0 ( 0.000 %)

I-VOPs DRF medio: 2.271894
I-VOPs deviazione std.: 0.444935
I-VOPs DRF max: 3

P-VOPs DRF medio: 2.815339
P-VOPs deviazione std.: 0.388601
P-VOPs DRF max: 4

B-VOPs DRF medio: 3.639216
B-VOPs deviazione std.: 0.480227
B-VOPs DRF max: 4

[ Profile compliancy ]

Profilo da testare: MTK PAL 6000
Risoluzione: Ok
Framerate: Ok
Min buffer fill: 81%

Rapporto generato da AVInaptic (18-11-2007) in data 11 gen 2008, h 12:30:31



[ Info sul file ]

Nome: Petrie D. - Usa, 2006 - Baciati dalla sfortuna - 2°T.avi
Data: 11/04/2007 21:41:34
Dimensione: 734,146,560 bytes (700.137 MB)

[ Info generiche ]

Durata: 00:50:16 (3015.68 s)
Tipo di contenitore: AVI OpenDML
Streams totali: 3
Tipo stream n. 0: video
Tipo stream n. 1: audio
Tipo stream n. 2: audio
Audio streams: 2
ISFT: VirtualDubMod 1.5.4.1 (build 2178/release)
JUNK: VirtualDubMod build 2178/release

[ Dati rilevanti ]

Risoluzione: 576 x 304
Larghezza: multipla di 32
Altezza: multipla di 16
DRF medio: 3.277547
Deviazione standard: 0.610274
Media pesata dev. std.: 0.441518

[ Traccia video ]

FourCC: xvid/XVID
Risoluzione: 576 x 304
Frame aspect ratio: 36:19 = 1.894736
Pixel aspect ratio: 1:1 = 1
Display aspect ratio: 36:19 = 1.894736
Framerate: 25 fps
Frames totali: 75392
Stream size: 534,780,292 bytes
Bitrate: 1418.665884 kbps
Qf: 0.324073
Key frames: 1011 (0; 250; 299; 484; 591; ... 75204)
Null frames: 0
Min key int: 1
Max key int: 250
Key int medio: 74.571711
Ritardo: 0 ms

[ Traccia audio n. 1 ]

Audio tag: 0x2000 (AC3)
Bitrate (contenitore): 384 kbps CBR
Canali (contenitore): 6
Frequenza (contenitore): 48000 Hz
Chunks: 75381
Stream size: 144,752,640 bytes
Preload: 480 ms
Max A/V diff: 496 ms
AC-3 frames: 94240
Durata: 00:50:16 (3015.68 s)
Chunk-aligned: No
Mode: 3 front, 2 rear, 1 LFE
Ritardo: 0 ms

[ Traccia audio n. 2 ]

Audio tag: 0x55 (MP3)
Bitrate (contenitore): 127.432 kbps VBR
Canali (contenitore): 2
Frequenza (contenitore): 48000 Hz
Chunks: 125653
Stream size: 47,926,944 bytes
Preload: 504 ms
Max A/V diff: 520 ms
Tipo: MPEG-1 Layer III
MPEG frames: 125653
Durata: 00:50:16 (3015.672 s)
Bitrate (bitstream): 127.140999 kbps VBR
Chunk-aligned: Sì
Emphasis: none
Mode: joint stereo
Ritardo: 0 ms

[ Info sulla codifica MPEG4 ]

User data: XviD0047
Packed bitstream: No
QPel: No
GMC: No
Interlaced: No
Aspect ratio: Square pixels
Quant type: H.263
Frames totali: 75392
Drop/delay frames: 0
Frames corrotti: 0

I-VOPs: 1011 ( 1.341 %)
P-VOPs: 30659 ( 40.666 %) ##########
B-VOPs: 43722 ( 57.993 %) ##############
S-VOPs: 0 ( 0.000 %)
N-VOPs: 0 ( 0.000 %)

Max consecutive B-VOPs: 2
1 consec: 14292 ( 49.271 %) ############
2 consec: 14715 ( 50.729 %) #############

[ Analisi DRF ]

DRF medio: 3.790455
Deviazione standard: 1.690621
DRF max: 9

DRF<2: 0 ( 0.000 %)
DRF=2: 5866 ( 7.781 %) ##
DRF=3: 37556 ( 49.814 %) ############
DRF=4: 24788 ( 32.879 %) ########
DRF=5: 0 ( 0.000 %)
DRF=6: 1 ( 0.001 %)
DRF=7: 0 ( 0.000 %)
DRF=8: 2417 ( 3.206 %) #
DRF=9: 4764 ( 6.319 %) ##
DRF>9: 0 ( 0.000 %)

I-VOPs DRF medio: 2.442136
I-VOPs deviazione std.: 1.038032
I-VOPs DRF max: 8

P-VOPs DRF medio: 3.221435
P-VOPs deviazione std.: 1.437905
P-VOPs DRF max: 8

B-VOPs DRF medio: 4.220644
B-VOPs deviazione std.: 1.731948
B-VOPs DRF max: 9

[ Analisi DRF (corretta) ]

Inizio titoli di coda: 00:45:27 (2727.32 s) - frames ignorati: 7209

DRF medio: 3.277547
Deviazione standard: 0.610274
DRF max: 4

DRF<2: 0 ( 0.000 %)
DRF=2: 5861 ( 8.596 %) ##
DRF=3: 37537 ( 55.053 %) ##############
DRF=4: 24785 ( 36.351 %) #########
DRF>4: 0 ( 0.000 %)

I-VOPs DRF medio: 2.284114
I-VOPs deviazione std.: 0.450991
I-VOPs DRF max: 3

P-VOPs DRF medio: 2.817667
P-VOPs deviazione std.: 0.386668
P-VOPs DRF max: 4

B-VOPs DRF medio: 3.636256
B-VOPs deviazione std.: 0.481076
B-VOPs DRF max: 4

[ Profile compliancy ]

Profilo da testare: MTK PAL 6000
Risoluzione: Ok
Framerate: Ok
Min buffer fill: 78%

Rapporto generato da AVInaptic (18-11-2007) in data 11 gen 2008, h 12:30:36
related torrents
Torrent name
health
leech
seeds
Size
Life S01E03 [HdTv XviD ENG ITA+sub ENG ITA][TNTvillage org]
0
0
394.66 MB
0
Life S01E04 [HdTv XviD ENG ITA+sub ENG ITA][TNTvillage org]
0
0
398.73 MB
0
comments (0)