Sci-Fi
Twelve Monkeys
Torrent info
Torrent added: 2009-08-29 14:51:31
Torrent Files List
12 Monkeys.avi (Size: 989.80 MB) (Files: 3)
12 Monkeys.avi
989.80 MB
Read Me.txt
0.16 KB
tracked_by_h33t_com.txt
0.02 KB
Announce URL: http://www.h33t.com:3310/announce
Torrent description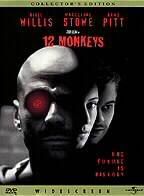 http://www.imdb.com/title/tt0114746/

Twelve Monkeys (1995)

Starring:
Bruce Willis,
Brad Pitt,
Madeleine Stowe,
Frank Gorshin,
Christopher Plummer,
David Morse

Written by: David Webb Peoples, Janet Peoples, based on a short film by Chris Marker

Directed by: Terry Gilliam

MPAA Rating: R for violence and language

Running Time: 129 minutes

Date: January 12, 1996


SYNOPSIS:


In this intriguing science fiction film from director Terry Gilliam, penal colony prisoner James Cole must travel back in time from the year 2035 to find the cause of a virus that killed five billion people in 1997.
Cole's trip into the past won't be easy. For starters, he winds up in the wrong year on his first attempt. Once, as he time-travels, Cole ends up a prisoner in an insane asylum in 1990. There, he meets psychiatrist Kathryn Railly and inmate Jeffrey Goines, who could hold the key to the epidemic's spread. Cole later winds up in the middle of a World War I battlefield.
After meeting James for a second time, in another year, Dr. Railly gets further involved in his quest. Although she thinks at first that Cole must be crazy, Kathryn soon starts to believe him and attempts to help.
But James has already started to question his own sanity and tries to figure out if his journeys through time are real or if he's just been imagining everything.



Review:

One of the qualities that makes "12 Monkeys" so good is the fact that it is almost too complicated to explain.

The movie begins in 2035, when only 1 percent of the population has survived a devastation of unknown origin. The remaining humans live underground beneath an uninhabitable earth's surface. Scientists believe the key to continued survival lies somewhere in the year 1996, when all the troubles began. They send Cole (Bruce Willis), a "volunteer" from the prison system, on a risky mission back in time to look for any information that might help reverse the perilous decline of the planet.

Director Terry Gilliam practiced inventing a dim and seedy future in his comically nightmarish "Brazil." He continues his obsession with a world strangled by hoses and mechanical paraphernalia in "12 Monkeys." Its wild visuals still point in a direct line to the baroque cartoon puns Gilliam designed for British television when he was the only American member of Monty Python.

With the aid of director of photography Roger Pratt and production designer Jeffrey Beecroft, Gilliam has created another ghoulish world filled with ungainly metal contraptions designed to intimidate the humans that use them.

But what Gilliam does perhaps better than anyone else making movies today is that he combines an anarchic, rapturous love of exaggeration, adventure and play with a genuine gift for narrative. So while the French team of Jeunet and Caro can make the visually exquisite but basically incomprehensible "City of Lost Children," Gilliam applies an equally fierce visual talent to a ripping story.

Cole finds he has been mistakenly sent through time to 1990. Six years too early to find the subversive Army of the 12 Monkeys - the group assumed by the future scientists to have let loose the virulent virus that led to their current problems - Cole ends up in the ward of a mental hospital under the care of Dr. Kathryn Railly (Madeleine Stowe). When she hears his story, she assumes he's delusional and recommends treatment, which he escapes when he is summoned back into the time warp by his keepers in the future. As far as Railly is concerned, Cole appears to have disappeared in thin air.

The trip was not a total loss. Cole managed to make one useful contact in 1990 - fellow inmate Jeffrey Goines (Brad Pitt, wearing self-cut hair and a gruesome contact lens), a full-time schizophrenic and part-time animal rights activist.

Finally sent back to the right year, Cole finds that Goines is the man he's been looking for. His father (Christopher Plummer) is a prize-winning virologist experimenting on animals. Dr. Railly, presented with irrefutable indications that Cole is who he claims to be, says to hell with psychiatry and tries to help Cole save the world.

Throughout Cole's travails, his mind continually returns to a scene from his childhood vividly recalled but not fully understood until late in the well-written script by David Peoples ( "Unforgiven" ) and his wife Janet Peoples ( "Who are the DeBolts?" ). (The film was inspired by the French surrealist film of 1962, "La Jetee." ) They sum up with an ironical ending that shows just how easy it will be for scientists of the future to misread what happened in our era.

Like Gilliam's "Jabberwocky," "Time Bandits," "The Adventures of Baron Munchausen" and "The Fisher King," "12 Monkeys" doesn't look much like other movies, which in this era of copycat filmmaking is certainly a blessing. But in addition to being a gifted master of technical filmmaking, Gilliam is proving to be just as adept at working with actors. Pitt demonstrates a potential for acting that hasn't been viewed since his brief appearance in "Thelma and Louise." His Goines is exuberant and nervous, and it looks as if Pitt is starting to learn something about his craft.

One wishes Stowe had been given more to do. She's an actress you really want to watch, but her part serves as mere plot hinge here. It's utilitarian rather than organic.

Willis is as focused and intense as he was in "Pulp Fiction," his best work to date. His Cole is the essential victim. He's had the bad luck to be born when he was born. And he has a knack for being in the wrong place at the wrong time. Cole is plucky and intrepid, but still a pawn, which makes him a pitiable, admirable and unlikely tragic hero.




Codec: Xvid
Size: 989MB
Runtime: 02:09:29
Resolution: 656x368 (1.78:1)
Bitrate: 935 kb/s
FPS: 23.976
Audio: English. No subs.
128 kb/s (64/ch, stereo) CBR MP3



Show your appreciation and seed.
related torrents
Torrent name
health
leech
seeds
Size
Twelve Monkeys 1995 HDDVD x264 976x528
0
0
3.53 GB
0
Twelve Monkeys 1995 XviD ENG
0
0
699.72 MB
0
Twelve Monkeys KLAXXON
0
0
1.27 GB
0
Twelve Monkeys
0
0
3.99 GB
0
comments (0)