Sci-Fi
Enemy Mine {h33t} {gkline}
Torrent info
Name:Enemy Mine {h33t} {gkline}
Torrent added: 2009-08-29 10:55:37
Torrent Files List
Enemy Mine_{h33t}_{gkline}.avi (Size: 893.94 MB) (Files: 3)
Enemy Mine_{h33t}_{gkline}.avi
893.94 MB
Read Me.txt
0.16 KB
tracked_by_h33t_com.txt
0.02 KB
Announce URL: http://www.h33t.com:3310/announce
Torrent description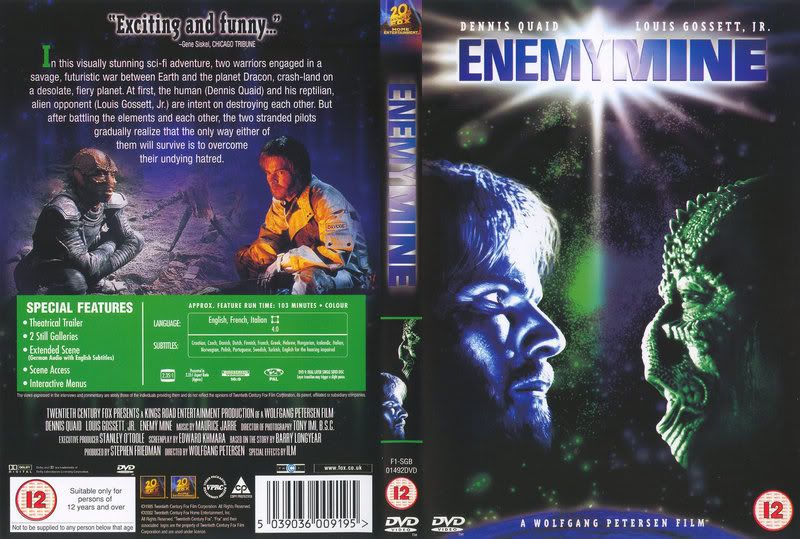 http://www.imdb.com/title/tt0089092/

Enemy Mine (1985)


Dennis Quaid

Louis Gossett, Jr.



Rated PG-13

1 hr 50 mins

Sci-Fi

On DVD 06-07-2005





SYNOPSIS:

During a bloody battle, two warring ships crash on a barren planet, with only one survivor from each ship. At first, the human pilot and the lizardlike Drac continue to fight, but the planet's harsh climate and the need to survive force them to ally. Over time, they put old hostilities aside and form a friendship. When the parthenogenetic Drac becomes pregnant, the two draw closer, overcoming their external differences to appreciate each other for who--not what--they are. The film is a thinly masked treatise on race relations, handled well by its two lead actors, Dennis Quaid and Louis Gossett, Jr. This futuristic sci-fi adventure film, directed by Wolfgang Petersen, features Gossett in an intricate full-body costume for his portrayal of the alien Drac.



REVIEW:

The people of Earth are at war with the Dracon Epire 100 years in the future. Davidge, a pilot gets into an air battle with a Drac plane, and the two vehicles crash-land on a deserted rocky planet. Davidge is determined to kill the lizard-skinned enemy when he sees that he is still alive. But soon the Earthian and the alien realize they must work together to survive.

The two become friends, learn each other's languae, and when "Terry," the Drac, dies giving birth to a new being, it is up to Davidge to parent the child and serve as his sponsor before the Drac Council.

Instead of treating this bizarre science fiction tale as a lark, screenplay writer Edward Khmara and director Wolfgang Petersen opt to make it into a moralistic parable about cooperation between Earthians and aliens. The more serious Enemy Mine gets, the more unintentionally funny it becomes. Near the end, the moral tone and the story give way to a gung ho violent finale.

Check out "Enemy Mine", give it a chance. It's not likely to go down in history as the best sci-fi movie ever made, but it does have heart.




Codec: Xvid
Size: 893MB
Runtime: 01:48:05
Resolution: 608x336 (1.81:1)
Bitrate: 1022 kb/
FPS: 23.976
Qf: 0.209 bits/pixel
Audio: English. No sub.
128 kb/s (64/ch, stereo) CBR MP3





Show your appreciation by seeding.

related torrents
Torrent name
health
leech
seeds
Size
Enemy Mine {h33t} {gkline} avi mazysmadhouse net
0
0
893.94 MB
0
Dead Clowns {h33t} {gkline}
0
0
798.05 MB
0
Alien Nation {h33t} {gkline}
11
3
700.10 MB
0
Demolition Man {h33t} {gkline}
0
0
973.42 MB
0
Fifth Element {h33t} {gkline}
2
1
980.75 MB
0
comments (0)