Windows - Sound Editing
MediaMonkey GOLD 3 0 3 1183 Multilingual FULL
Torrent info
Name:MediaMonkey GOLD 3 0 3 1183 Multilingual FULL
Torrent added: 2008-08-12 12:48:22
Torrent Files List
MediaMonkey.3.0.2.1134-KeyGen_CiM.rar (Size: 6.65 MB) (Files: 3)
MediaMonkey.3.0.2.1134-KeyGen_CiM.rar
104.40 KB
MediaMonkey_3.0.3.1183.exe
6.55 MB
Torrent downloaded from Demonoid.com.txt
0.05 KB
Announce URL: http://inferno.demonoid.com:3392/announce
Torrent description
MediaMonkey GOLD 3.0.3.1183 Multilingual FULL




Manage a music library from 100 to 50,000+ audio files and playlists*; whether Rock, Classical, Audiobooks, or Podcasts; whether they're located on your hard drive, CDs, or a network. Organize, browse, or search music by Genre, Artist, Year, Rating, etc., and never waste your time trying to find mp3s you know you have.

MediaMonkey is the music organizer for the serious collector.

* Supports MP3, AAC (M4A), OGG, WMA, FLAC, MPC, WAV, CDA, M3U, PLS, etc.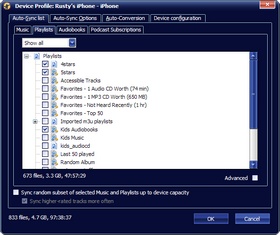 Sync with iPhones, iPods, and most any MP3 phone or Audio Device. Just click the Sync button to sync tracks, podcasts, and related properties such as Album Art, ratings, play history, and playlists with a broad range of portable devices*. With Volume Leveling, the tracks will even play back on your device at consistent volumes!

Try MediaMonkey if you want painless synchronization with almost any portable player.

* The information that can be synced is device and plug-in dependent.
http://www.mediamonkey.com/information/free/

INFORMATION ABOUT KEYGEN:
-Type you Name / Nick
-Hit The "ENTER" key.
-the Keygen generate 2 different licenses:
1-A life Time license : serial begins with "INF".
2-A vV2 License : Serial begins with "VV2".
-The license type is Randomlly generated so Hit ENTER many times to change license type.
related torrents
Torrent name
health
leech
seeds
Size
comments (0)